India Photo Tour
Regretably we have had to postpone our scheduled India tours for 2009/2010 season. Bookings are only open to private groups at this stage who wish to explore the riches of Rajasthan and beyond.

Rajasthan is the most colourful region in India, a land marked by powerful rulers, beautiful women and centuries of tradition. From the elegance of the sari to the comforts of the havali, our exploration of Rajasthan will bring you face to face with India. Starting in Mumbai we head north and journey across sand dunes, visit in villages and meander through markets. We conclude the adventure with evening and morning shoots at the Taj Mahal, the most romantic building ever built.
Day 1-2 Mumbai
Group meeting and introduction to India
Days 3-4 Udaipur
Palace on the lake, artisans and Sadus
Days 5 Narlai
Historic holy town, batholiths and Ranakpur
Days 6-8 Jodhpur
Blue city, red fort and narrow lanes
Day 9 Khimsar
Camels and huts in the Thar Desert
Day 10 Pushkar
Holy lake and hilltop temples
Days 11-12 Agra
Taj Mahal by afternoon and early morning light
Days 13-14 Delhi
Transfer to Delhi for final night
Maximum group size is 8 people, priced at US$4100
Photographs from India
Rajasthan Slideshow
3 minute video of the tour
The World's Best Photo Tours
You won't find a better tour experience: Unmatched knowledge of the locations and local support, hand crafted experiences that run only once every one or two years, our experience teaching the art of photography and a commitment to smaller group sizes.
Beginners Welcome
These tours are not just for advanced photographers, we love welcoming beginners to the craft to help them fast track their creative abilities. Sharing what we know and giving other photographers a truly wonderful experience is the best part of running these tours. If you're ready to learn new skills while you travel then this is the trip for you. If you want to spend quality time with like minded people and enjoy the sharing of knowledge and experiences, then we would love to have you along.
8 is Great
If you have to share a tour with dozens of other photographers, then it's just a tour instead of a photo tour. Smaller groups mean less drama, more fun and are infinitely more rewarding. My first responsibility is to ensure every person on my tour gets plenty of my time and advice, and with fewer photographers in one place you will come home with better photos and the best light :)

Small isn't just good, it's great!
Dates
Feedback from Past Travellers
"My third trip with Ewen and Jason from Grasshopper Travels and definitely not my last! Rajasthan is an amazing and confronting region and this trip was packed full of highlights from the Thar Desert to the bustling towns. With Ewen's guidance I was able to photograph the wonderfully friendly people of the region and, along with his forays down busy streets, temples and markets, I brought home the best travel photos I have even taken. Once again the trip was flawlessly planned and smoothly delivered. We stayed in former palaces, tried out local restaurants and rode camels across the desert. Jason even organised a cricket match with the eager people of Mandawa. I can't recommend these two professionals highly enough - for photographers or just those who like to travel to somewhere different. Thanks guys for yet another wonderful adventure."

- Heather H, Australia
India Photography Tour, February 2008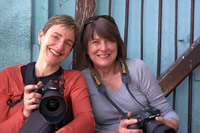 Read more from past travellers and the media