Ancient Kingdoms Photography Tour
The Kingdoms of Siam, Laos and the Khmer date back thousands of years, and we explore that history through the perspective of the lens. Bangkok is the bustling heart of Thailand and the starting point for our journey. We travel north to the ancient capital of Chiang Mai, the golden temples of Laos and then conclude our tour in Cambodia's majestic Angkor Wat region. One of the most comfortable photographic journeys you'll ever enjoy, with the added pleasure of fantastic cuisine and the kindness of Buddhists.

November 14-28, 2014
November 06-20, 2015
Maximum group size is 8 people, priced at US$5150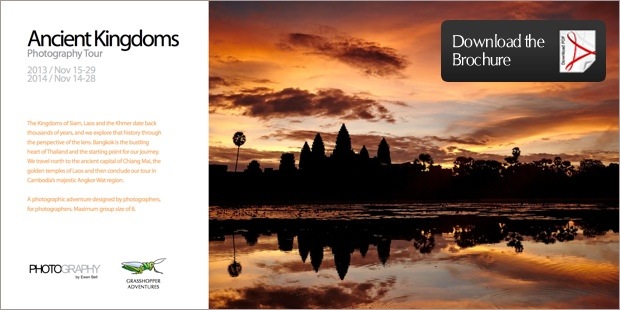 Itinerary

Day 1 | Thailand | Bangkok
We rendezvous in Bangkok for the start of the tour with a group meeting at our hotel and then some fine dining with Thai cuisine in the city. We introduce the tour style and objectives, open the discussion on photographic ideas and techniques, and lay out the details for the journey ahead.
Day 2 | Thailand | Bangkok
We start our photographic exploration with a stroll through the flower market. The idea is to spend some time getting familiar with a few photographic ideas and learn something of Bangkok as well. Before the day is out we'll explore some of the water ways in a khlong boat, sample some streat food and head into the Buddha Market. There's a little time left spare in the afternoon to cool off and download photos.
Day 3 | Thailand | Chiang Mai
In the afternoon we catch a flight to the north of Thailand but we have time to visit Wat Arun and chase some Tuk Tuks before that. Later in the evening we arrive in Chiang Mai where will explore the Lanna Kingdom and their unique cultural treasures.
Day 4 | Thailand | Chiang Mai
We start early to get familiar with some of my favourite temples in the city of Chiang Mai. There are lots of them because this is a deeply spiritual city from ancient times, and inside the city walls are dozens of golden chedi, elegant statues and saffron robed monks. Chiang mai is great for "Monk Chat" sessions too. After lunch we visit my favourite temple in Thailand, Doi Su Thep, situated on a hill overlooking the city.
Day 5 | Thailand | Chiang Mai
Elephants are what makes this part of Asia unique and we go and meet some of them in the jungles to witness their skill and cooperation with man. Asian elephants are domesticated but also spend part of their lives wild. A good mahout earns respect from his elephant, and we photograph these animals in a semi-natural environment typcial of how they once spent their day while working in the logging industry.
Day 6 | Laos | Luang Prabang
Leaving the Lanna Kingdom behind we fly over the Mekong to discover the Kindgom of Lao. The modern country of Laos still retain many historical ties to their ancient past, and Luang Prabang is the heart of that connection with an impressive collection of beautiful temples. It's also rich in colonical heritage dating back to the French colonial past.
Day 7 | Laos | Luang Prabang
Every morning in Luang Prabang is an opportunity to photograph the monks as they walk around town collecting alms. This special tradition takes place daily in the residential parts of town but starts very early. Later in the day we join local photographer Paul Wager to head into the countryside and explore ethnic villages. The H'Mong and Khamu people are distinct from the Lao and we go in search of their communities as they begin harvesting the rice.
Day 8 | Laos | Luang Prabang
Today we visit the main market in town and then head out into the country side for a cooking class. A local chef operates one of the loveliest cooking schools in Asia, which provides delicious food and ample inspiration to photograph. Everybody cooks on this outing, but not everybody remembers to take photos. The choice is yours and the setting provides excellent conditions for practicing your food photography.
Day 9 | Laos | Luang Prabang
Our final day in town is planned around a morning trip to visit the Pak Ou caves where thousands of Buddha statues watch the Mekong flow past. It's a chance to relax on the river as we head up and back, plus we can visit a town on the way for some local rice wine called Lao Lao. This will be our last day to shoot the Mekong sunsets or wait for monks at sunrise as they collect alms.
Day 10 | Cambodia | Siem Reap
Leaving the gold and saffron of the Lao kingdom we head to Cambodia and immerse ourselves in the stone and jungles of the various Khmer kingdoms of Angkor. There are hundreds of temples scattered through the forests here, some carefully restored and other left collapsed and in chaos so we can appreciate the true age of these structures.
Day 11 | Cambodia | Siem Reap
We start the day very very very early and hope for a beautiful sunrise. Our location will be the reflection pools at Angkor Wat, where the only thing outnumbering the photographers is the mosquitos. We arrive early to ensure we get a get spot and wait for the day to begin. If desired you will be able to repeat the sunrise on every day during our visit. Today we spend time at a handful of my favourite temples, with a break in the middle to cool down by the pool.
Day 12 | Cambodia | Siem Reap
With hundreds of temples available to visit we chase a few more today, heading further away from the busy patches of Angkor in search of quiet places to photograph the archtitecture without tourists. It is indeed possible. I have special places where I like to shoot sunrise and sunset, other than the obvious ones you will have heard about.
Day 13 | Cambodia | Siem Reap
The ancient kingdoms of the Khmer were truly innovative, not just in the massive stone structures of the temples but their ability to cope with the rise and fall of the Tonle Sap. This massive lake fills to ten times it's size in the wet, and then drains back out for the rest of the year. Villages near Siem Reap have learned to adjsut, some my living on floating homes, others by erecting stilts that put houses into the tree-tops. We visit the lake and the community before returning to Siem Reap for our final group dinner.
Day 14 | Cambodia | Siem Reap
Our final day on tour is dedicated to visiting one of the less obvious sites around Angkor, a temple that has not been restored in any way but left in it's state of semi-chaos. Massive stone blocks reveal the outline of former glory, with some libraries still in tact and others tossed about like lego bricks. Earthquakes and the jungle have conspired to render Beng Mealea a fascinating site for photography.
Day 15 | Departure
The next morning marks the end of the tour, with a scheduled hotel check-out and a flight back to Bangkok. You can extend your time in Siem Reap in case you want to allow more time to chase the temples, or just make plans for a connecting flight out of Bangkok in the evening.
Highlights on this tour
- Bangkok Flower Market
- Bangkok Buddha Market
- Introduction to Thai cuisine
- Temples of old Chiang Mai
- Parasol factory and paintings
- Golden Chedi at Doi Su Thep
- Elephants of Chiang Mai
- Local Market in Chiang Mai
- Mornign Alms in Luang Prabang
- Sunset on the Mekong
- Ethnic villages of H'Mong and Khamu
- Laos style cooking school
- Morning markets in town
- Boat ride along the Mekong
- Cave of the Pak Ou Buddhas
- Night Market in Luang Prabang
- Sunrise at Angkor Wat
- Quiet treasures of Angkor
- Tonle Sap Water Village
- Temples away from Angkor itself
- Local market outside Siem Reap
- Photographic guidance from Ewen
- All meals and fees included
- Group size limited to just 8 people
Recent photos from the tour

Meet The Photographer
My name is Ewen Bell and I love photography, and I love Asia. The food, the people and the Buddhist cultures have kept me coming back for a decade. Thailand is so luxurious for travellers, and Cambodia offers such exceptional old temples. But Laos is my favourite. Everyone who visits Laos says the same :)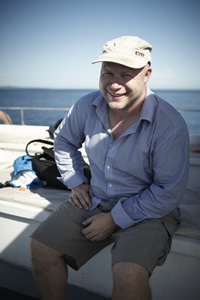 Feedback from Past Travellers
"This was my first photography trip with Ewen bell and on my return I signed up for another because I had learnt so much. The group was small which enabled each of us to have individual attention suited to our skills. No matter what level we were, Ewen was able to provide information.s and advice to improve our images. I was able to approach Ewen with any query I had. He took us to the best locations and in crowded venues he had a special, quiet spot for us. His unique perspective on travel photography changed the way I approached my shots resulting in my coming home with images different to my usual travel photos. He showed me how to take photos which illustrated the atmosphere and emotion of the places we visited. He is a sensitive photographer and his approach to his photographic subjects is respectful and non-exploitive. He gave regular sessions were we could talk over our day.s photography and review our efforts. He and Jason, the tour company Grasshopper's leader, added fun and laughter to the trip. The accommodation and food provided were excellent. I would recommend this trip to anyone."

- Mary F, Australia
Ancient Kingdoms Photography Tour, November 2011

"I can highly recommend this trip for any avid photographer. Ours was a mixed group with a wide range of expertise and experience, but Ewen Bell gave each of us the degree of instruction we wanted and/or needed. It was exhilarating just to follow him around and see what he did, although we also had ample time to explore on our own. He and Jason Williams were tireless in their efforts to show us a good time, as well as develop our skills: panning; shooting "rough"; timing our expeditions so we caught sunrises and sunsets; showing us the best corner on which to see the processions of monks receiving alms; encouraging us when we felt a bit discouraged with our results; demonstrating how to engage the local villagers who spoke no English so they were happy to pose for us; sharing processing tips; waiting for us to catch up (mainly me). What impressed me most about this tour was the genuine consideration of our guides for the local people of Thailand, Laos and Cambodia, who responded with warmth when we asked them for photographs. Jason and Ewen showed us many ways we could 'give back"; Jason is a pretty good juggler, to the delight of the local children! I would highly recommend the tour. Great food and accommodation, interesting and varied sites, good friends."

- June W, Canada
Ancient Kingdoms Photography Tour, November 2010

"My third trip with Ewen and Grasshopper Adventures to see the ancient kingdoms of SE Asia was magnificent! I fell in love with the land, the people and the culture and brought back some great photographs and memories. Typical of Grasshopper Adventures, we found things there that no large tour company would ever include. As an example, on the way to visit one of the ancient temples we happened to see a small group of people harvesting rice, so we stopped the bus and our local Cambodian guide asked if they would mind if we took their pictures while they worked. They said yes we could, so we spent at least an hour with them while they worked, talked and laughed. It is interactions like this one that bring you nearer to the people and what I love so much about Ewen's style and Grasshopper Adventures' philosophy on travel. Thanks, guys!"

- Liz G, USA
Ancient Kingdoms Photography Tour, November 2009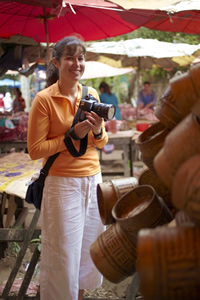 Read more from past travellers and the media
Advance Your Photography
If you want to explore your creative potential, learn about the basics of photography or gain a little professional insight then these tours are a magnificent way to do it. If you're ready to learn new skills while you travel then this is the trip for you. If you want to spend quality time with like minded people and enjoy the sharing of knowledge and experiences, then we would love to have you along.
8 is Great
I never want to run a photography tour with more than 8 people, let alone 20 or more. Smaller groups mean less drama, more fun and are infinitely more rewarding. My first responsibility is to ensure every person on my tour gets plenty of my time and advice, plus to ensure we don't ruin a lovely location by dragging a horde of photographers about. Small isn't just good, it's great!
What's Included
Please check the brochure for additional details, but every tour includes themed sessions, one-on-one tuition, a copy of the "Photography for Travellers" book, internal ground and air travel, accommodation and many meals. International flights, spending money and cameras are not included.
Dates