Photography Tours



Both novices and experienced photographers will find something special from my photography tours. Hand crafted itineraries based on my personal experience in the regions and collaboration with boutique travel operators. The expeditions are designed to make the most of photographic opportunities along the journey, but also allow time to share knowledge on a one-to-one basis. Specialised notes and a series of instructional themes are included in the package, or simply take the opportunity to learn directly from a professional.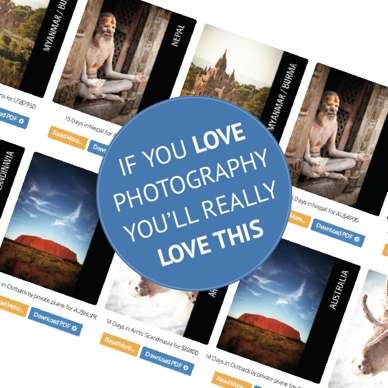 Anyone with a passion for travel or photography will find new inspiration on these adventures. My philosophy of the camera is simple: Go slow, get closer and look for the light.


The Tours
The Dates
Advance Your Photography
If you want to explore your creative potential, learn about the basics of photography or gain a little professional insight then these tours are a magnificent way to do it. If you're ready to learn new skills while you travel then this is the trip for you. If you want to spend quality time with like minded people and enjoy the sharing of knowledge and experiences, then we would love to have you along.
8 is Great
I never want to run a photography tour with more than 8 people, let alone 20 or more. Smaller groups mean less drama, more fun and are infinitely more rewarding. My first responsibility is to ensure every person on my tour gets plenty of my time and advice, plus to ensure we don't ruin a lovely location by dragging a horde of photographers about. Small isn't just good, it's great!
Private Departures
Any of our current itineraries can be scheduled for private groups, many for as few as just 4 people. Have a look at some of our past research trips and unique adventures for ideas on where your camera club or group of friends could customise a photographic adventure...