Lapland to Lofoten Photography Tour
With the help of specialist experts on Norway and Sweden, 50 Degrees North, we've designed a sensational adventure into the Arctic snow and ice. We'll have enough daylight to chase reindeer and landscapes under the sun plus deeply dark nights for shooting the Northern Lights. Starting in the North-East of Sweden and finishing in the North-west of Norway, this adventure includes reindeer races, traditional markets and some of the most breathtaking scenery Scandinavia has to offer.

February 01 - February 15, 2014
Maximum group size is 8 people, priced at AU$10,800 (prices also available in Euro, GBP and AUD)
Tour Highlights
2 weeks of Photographic escort and instruction with Ewen Bell
Staying in Lavvo at the Aurora Safari Camp
Northern Lights photographic sessions with Fredrik Broman
Jokkmokk Winter Market
Sami Reindeer Racing
Dog Sleigh and Snow Shoe adventures
Abisko Sky Station for Northern Lights
Visit to Kiruna Ice Hotel
Day trips to remote villages of Lofoten
Fishing villages and landscape photography around Reine
Recent Photos

Itinerary
Day 1 / Luleå / Lapland
Meet the group in Luleå in the far north of Sweden, a short flight from Stockholm. Early arrivals can visit the Gammal Stad area or shop for their winter wardrobe. Group meeting starts at 5pm. (D)

Day 2 / Sörbyn / Lapland
A tour of the frozen archipelago gets us onto the ice-roads of the north, and then we head away from the coast to head up the Råne Valley towards Sörbyn where the Aurora Safari Camp will be our wilderness home for two days. Adventures in the snow include dog sledding and snow shoeing. (BLD)

Day 3 / Sörbyn / Lapland
We have another day in the wilds and another night in the lavvo style tents. This day is reserved for meeting a traditional Sami family and their reindeer. Either of our two nights at the Aurora Safari Camp offer the possibility of Northern Lights, with two experienced photographers on hand to discuss techniques for shooting them. (BLD)

Day 4 / Jokkmokk / Lapland
We drive north west into the Arctic Circle today, stopping on the way for some local surprises and arriving in Jokkmokk in time to visit the museum and get familiar with the town. The following day is market day. (BLD)

Day 5: Jokkmokk / Lapland
We have the whole day to wander and photograph at the Jokkmokk Winter Market where reindeer skins, reindeer rides and reindeer stew are sold on the streets. There are often reindeer races held down at the lake as well. (BD)

Day 6: Kiruna / Norbotten
We visit the famous Ice Hotel near Kiruna and enjoy a drink at the Ice Bar. We cna wander the unique cold rooms and then head for a nice warm hotel. The wooden church is Kiruna is also a highlight, a gracious building that is typical of the Lapland style. (BLD)

Day 7: Abisko / Norbotten
On arrival to Abisko we get straight into the chase for Northern Lights with a visit to the Sky Station. This dedicated facility has a unique chair lift to take us up to the top of the mountain to look down over the town of Abisko, and look up at the solar activity in the night. The meals are fabulous up here too. (BLD)

Day 8: Abisko / Norbotten
We have scheduled a quiet day in Abisko to wander the walking trails through the snow, or discuss photography techniques in the bar. The views from our accommodation are rather inspiring and you wont be able to stay away from the landscape. We have plans for chasing the Aurora again this evening with a walk down to the lake. (BLD)

Day 9: Svinøya / Lofoten
We take the train from Sweden to Norway and enjoy and enjoy one of the most scenic routes in the world. Snow and fjords. On arrival in Narvik we drive the E10 highway across the islands of Lofoten until we reach Svinøya. Lots of stops are planned for the day to shoot some landscapes. (BLD)

Day 10: Henningsvær / Lofoten
We spend the morning visiting some sites of interest for the February light, with a strong emphasis on landscape photography. Lofoten is inspiring for this style of shooting, with steep mountains that plunge into the sea, all covered in snow. When we arrive in Henningsvær there is a free afternoon to photograph fishing boats and cod racks around the village, or walk onto the bridge to shoot sunset. (BD)

At all times when staying on the Lofoten Islands we also plan to keep watch for suitable conditions to shoot the Northern Lights.

Day 11: Henningsvær / Lofoten
From our remote village we take a day trip to explore some even quieter and harder to reach coastal locations around Lofoten. This is a chance to practice some new techniques in landscape photography and we recommend everybody pack a tripod, ND1000 filter and an ND Graduated as well. (BLD)

Day 12: Reine / Lofoten
For many the few days in Reine will be the highlight of the tour. We stay in fishing cottages by the water and have a chance to visit some of the most iconic scenery these islands can offer. Our drive takes a few hours normally, but because we stop for many dedicated photo shoots en route it may take all day. (BLD)

Day 13: Reine / Lofoten
This is a free day to wander the nearby villages, catch up on processing photos or chase some more abstract landscape images. Each outcrop of rock that rises above the sea has it's own collection of fishing cottages and cod racks to provide photographic interest. We'll provide a briefing to ensure you get the most of your free day however you decide to use it. (BD)

Day 14: Reine / Lofoten
We have a day trip planned to see a little more of the islands and finish the tour on a high note. With the help of one of the local residents we'll be venturing a little further off the beaten path too. Our final dinner will be at the fishing cottages. (BLD)

Day 15: Departure
The ferry for Bodø departs in the early afternoon and arrives on the mainland around 7:30pm. Onward connections to flights, trains or ships can be arranged with the help of 50 Degrees North. (B)
Meet The Photographer
My name is Ewen Bell and I love photography. I also love Scandinavia and especially the people of Lapland and Finnmark inside the Arctic circle. The people here have learned to survive incredible winters, but with great style. My first trip to Sweden was in the Summer, but then I came back the next year to see the landscape under snow in early Spring. I loved it even more. This trip I am looking forward to spending time with local experts and getting creative with slow shutters.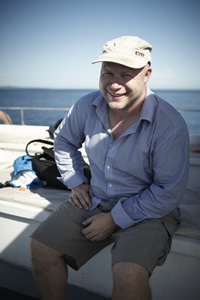 Feedback from Past Travellers
"I have just completed a tour with Ewen Bell to Lapland. It was the best trip I have done for many years. We had wonderful visual and active experiences in the snow: from the Aurora Safari Camp, to the Ice hotel and on to the cod fishing towns in Norway's fjords. All were breathtaking. Ewen's photographic tutoring enabled all of us to photograph the Aurora Borealis with confidence and enabled me to achieve some wonderful photos. I loved it all and may even do it again."

- Mary F, Australia
Lapland to Lofoten Photography Tour, February 2013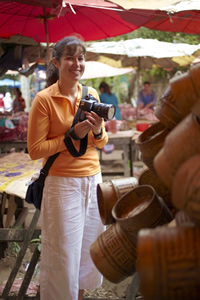 Read more from past travellers and the media
The World's Best Photo Tours
You won't find a better tour experience: Unmatched knowledge of the locations and local support, hand crafted experiences that run only once every one or two years, our experience teaching the art of photography and a commitment to smaller group sizes.
8 is Great
If you have to share a tour with dozens of other photographers, then it's just a tour instead of a photo tour. Smaller groups mean less drama, more fun and are infinitely more rewarding. My first responsibility is to ensure every person on my tour gets plenty of my time and advice, and with fewer photographers in one place you will come home with better photos and the best light :)

Small isn't just good, it's great!
Advance Your Photography
If you want to explore your creative potential, learn about the basics of photography or gain a little professional insight then these tours are a magnificent way to do it. If you're ready to learn new skills while you travel then this is the trip for you. If you want to spend quality time with like minded people and enjoy the sharing of knowledge and experiences, then we would love to have you along.
What's Included
Please check the brochure for additional details, but every tour includes themed sessions, one-on-one tuition, a copy of the "Photography for Travellers" book, internal ground and air travel, accommodation and many meals. International flights, spending money and cameras are not included.
Dates