Australia by Air - Outback Photography Tour
Come and see the real Australia in the most exclusive journey you'll ever experience. An epic adventure through The Outback that traverses the southern states on the way to the Red Centre, Uluru, Kakadu, Tiwi Island and The Kimberley. Meet indigenous people of the Northern Territory and cattle farmers in the remote regions of Western Australia. We have our own private aircraft with just enough room for eight lucky photographers, tour leaders and a pilot, stunning aerial views between stops and two weeks of sunsets, wilderness and wildlife. This is easily my best photography tour ever, get in early for the once a year departure.

2016 May 26 - June 8
Maximum group size is 8 people, priced at AU$17,990
Itinerary
Day 1: Coober Pedy
Our adventure begins in Melbourne, departing by light aircraft for the moonscapes of Coober Pedy. This town is the heart of Opal mining in Australia, and we spend the night in a typical lodging deep underground.
Days 2-3: Kings Canyon
Early morning we take a tour to explore the Breakaways, one of the locations for the filming of Mad Max. We fly onwards to Kings Creek Station to spend two nights in the Red Centre. This is a working cattle station complete with camels, stockmen and landscape scenes at the gorge.
Days 4-5: Mary River Wetlands
A big travel day that sees us flying over the varied terrain of Kakadu National park. That afternoon we arrive at our exclusive lodgings at Point Stuart, a wildlife bonanza along the Mary River Wetlands, to the west of Kakadu. We have two days of wetlands tours, sunset cruises and opportunities to photograph saltwater crocodiles, Jabiru, Brolga and more. Barramundi fishing on the Mary River can also be accommodated in the schedule.
Day 6: Tiwi Islands
We fly north to Bathurst Island to meet some of the locals and get face to face with indigenous culture in Australia. The Tiwi Islanders are famous for their unique crafts, artwork and friendly faces.
Day 7-8: Faraway Bay
The flight path heading west takes us over the Kimberley coastline, arriving in the remote jewel of Faraway Bay. During our stay we'll make a day trip to the King George Falls, explore Australia's oldest known collections of rock art and get familiar with traditional bush tucker.
Day 9-10: Home Valley Station
We fly further into the wilderness to reach Home Valley, one of the major locations for the filming of "Australia". For two days we'll be treated to photographic inspiration with cattle, cowboys, horses and boabs - plus dramatic views of the Cockburn Range.
Day 11: Bungle Bungles
We fly inland for aerial views of Lake Argyle, arriving at the Bungle Bungles in time to shoot the domes at sunset - when colours are at their best.
Day 12: Uluru
We head south in our aircraft to arrive at Uluru, formerly called Ayers Rock. We'll have the afternoon light on the first day, and then morning light on the next. There is no more iconic symbol of Australia's Outback than this.
Day 13-14: Parachilna
We catch the sunrise upon Uluru, drive a little further out to shoot the Olgas and then head back to the plane for the last stopover. Parachilna is a dusty town where The Outback meets the Flinders Ranges. We have a final night together to enjoy the hospitality at the Prairie Hotel, and enjoy the sunset, saddles and shiraz. The final day of the trip sets a course over Wilpena Pound for stunning aerial views, before heading all the way back to Melbourne.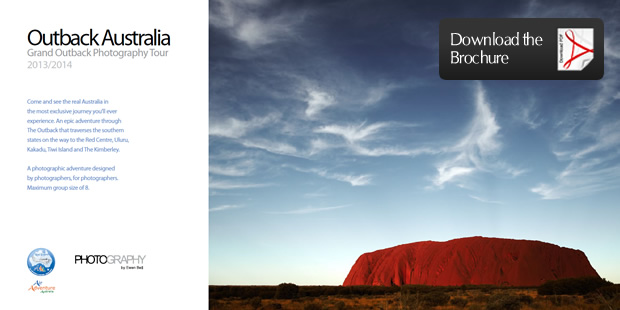 Meet The Photographer
My name is Ewen Bell and I love photography, especially when I have a private plane to carry around my camera. Having spent years travelling the country by road this tour was a revelation, and rather addictive. There is no better way to see our landscapes, wildlife and outback characters. Get your camera and come fly with me :)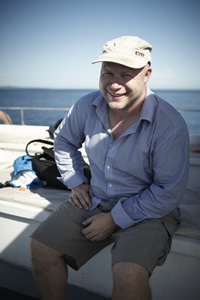 Recent Photos from Australia

Feedback from Past Travellers
"Ever been on a magic carpet ride? Neither have I. Although, travelling on a private plane, to remote outback locations, being first and foremost a tour catering to photographers; awe-inspiring. An opportunity of a lifetime for me, this tour was above and beyond what I could have imaged. The extra special thing (besides the red drink :) ) Ewen was happy to share his experience/knowledge on photography and always made time to answer any questions. With his help, it certainly inspired me to bigger and better things in my photography. The bad note; the trip ended! If you have a passion for photography (regardless of level) you will not be disappointed by this tour. It is an adventure not to be missed. "

- Michelle M, Australia
Outback Photography Tour, June 2010

"My husband and I had the amazing opportunity to travel on their maiden voyage in June of this year and were absolutely thrilled with the experience! There were several of us who were continually pinching ourselves throughout the two weeks to make sure that it really was more than just a dream!

I can only think of two areas of photography that would not be well suited to this trip, so if you are passionate about only architecture or sports photography, you might want to stay in the city! However, I'd definitely recommend a trip like this for anyone who wants to grow in any other field of photography, no matter what level of experience they have - from novice right through to the professional level. As an instructor and mentor, Ewen was humble and very approachable."

- Donna Z, USA
Outback Photography Tour, June 2009
Read in full the article Donna wrote for the Melbourne Camera Club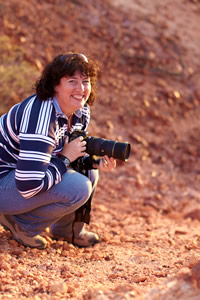 Read more from past travellers and the media
The World's Best Photo Tours
You won't find a better tour experience: Unmatched knowledge of the locations and local support, hand crafted experiences that run only once every one or two years, our experience teaching the art of photography and a commitment to smaller group sizes.
8 is Great
If you have to share a tour with dozens of other photographers, then it's just a tour instead of a photo tour. Smaller groups mean less drama, more fun and are infinitely more rewarding. My first responsibility is to ensure every person on my tour gets plenty of my time and advice, and with fewer photographers in one place you will come home with better photos and the best light :)

Small isn't just good, it's great!
Advance Your Photography
If you want to explore your creative potential, learn about the basics of photography or gain a little professional insight then these tours are a magnificent way to do it. If you're ready to learn new skills while you travel then this is the trip for you. If you want to spend quality time with like minded people and enjoy the sharing of knowledge and experiences, then we would love to have you along.
What's Included
Please check the brochure for additional details, but every tour includes themed sessions, one-on-one tuition, a copy of the "Photography for Travellers" book, internal ground and air travel, accommodation and many meals. International flights, spending money and cameras are not included.
Dates