Silk Road Photography Tour in China
The far western provinces of China are the backdrop for an epic photography adventure lead by travel photographer Ewen Bell. Exploring the Silk Road is a journey through history and cultures. There's more to this tour than hairy camels and ancient cities - you'll be exploring remote villages, desert dunes, Terracotta Warriors and the western edge of the Great Wall. The spectacular finale will be Lake Karakul and the markets of Kashgar.

April 15 - May 2, 2013
Maximum group size is 8 people, priced at US$5800
Itinerary
Days 1-3 | Xi'an
Start of the Silk Route and home of the famous Terracotta Warriors, there is also a whole lot more to Xi'an. We visit the bustling Muslim markets and have the chance to capture the unique blend of old and new presented by this vibrant city.

Days 4-5 | Xiahe
We travel overland to the city of Lanzhou and head higher into the mountains to a place where Tibetan culture is still strong. Xiahe Labrang monastery is a sacred place, a temple with devoted monks and eduring Tibetan traditions.

Days 6-7 | Jiayuguan
Jiayuguan was traditionally seen as the western boundary of Han China, and it is here that the last grand fortress along the Great Wall is to be found, surrounded by desert which stretches away to colossal mountains on the horizon.

Days 8-9 | Dunhuang
The Silk Road was more than just a trade route, it was also a conduit for ideas and religions. This is in evidence along the length of the Silk Route, but nowhere more spectacularly than at the oasis town of Dunhuang, famous as the site of China's finest Buddhist cave art. We tour the frescos and carving within the grottos (cameras are not permitted inside) and venture into the sea of huge dunes which surround the town.

Days 10-11 | Turpan
Turpan sits in a vast depression and is surrounded by a maze of grape-trellis-lined dusty lanes which lead to the desert and its fiery Flaming Mountains, ancient cities, hidden ravines and even vineyards.

Days 12-13 | Kuqa
This rural outpost is a trading center for the Ugyr people and we make the journey by plane via Urumqi to join the market frenzy and experience a little of life in the remote west of China.

Days 14-18 | Kashgar
Kashgar was a crucial trading post along the Silk Road and its bustling Sunday Bazaar still attracts traders from around the region. The proximity to Central Asia gives Kashgar a unique blend of cultures and the old city is alive with Uygurs, Tajiks, Kazaks and Kyrgyz, each distinguishable by their traditional headgear. To really take the Silk Route to the limits of China we travel along the Karakoram Highway to stunning and remote Lake Karakul, nestled among 7000m plus peaks where we spend a night in a yurt.
Meet The Photographer
My name is Ewen Bell and I love photography. Last time I travelled along the Silk Road in China I loved that too. Last time we visited the Kashgar Bazaar we didn't want to go home, so we stayed for hours amongst the goats and horses. And the next day we found an even better market :)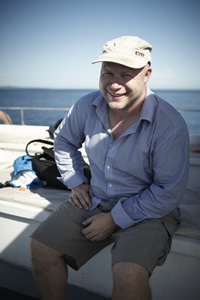 Feedback from Past Travellers
"My recent trip on the Silk Road with Ewen and Simon was everything I wanted and more. Every day included extensive opportunities for photography followed by feedback on my efforts; the accommodations, food, and transportation were excellent, especially the camel ride; Ewen and Simon are terrific travel companions. My photography has improved and my appreciation of China has expanded even further. Well done!"

- Nanciellen D, Canada
China Silk Road Photography Tour, October 2008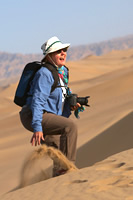 Read more from past travellers and the media
The World's Best Photo Tours
You won't find a better tour experience: Unmatched knowledge of the locations and local support, hand crafted experiences that run only once every one or two years, our experience teaching the art of photography and a commitment to smaller group sizes.
8 is Great
If you have to share a tour with dozens of other photographers, then it's just a tour instead of a photo tour. Smaller groups mean less drama, more fun and are infinitely more rewarding. My first responsibility is to ensure every person on my tour gets plenty of my time and advice, and with fewer photographers in one place you will come home with better photos and the best light :)

Small isn't just good, it's great!
Advance Your Photography
If you want to explore your creative potential, learn about the basics of photography or gain a little professional insight then these tours are a magnificent way to do it. If you're ready to learn new skills while you travel then this is the trip for you. If you want to spend quality time with like minded people and enjoy the sharing of knowledge and experiences, then we would love to have you along.
What's Included
Please check the brochure for additional details, but every tour includes themed sessions, one-on-one tuition, a copy of the "Photography for Travellers" book, internal ground and air travel, accommodation and many meals. International flights, spending money and cameras are not included.
Dates