"eBooks and Curation"
A unique online workshop run by Ewen Bell and David Norris, designed to offer a different way to think about your photography and how to present your images. It's not about a single photo, it's about the connection between them. Ewen and David will help guide you through a process to turn your photos into a story.
Build and curate a consistent theme through the creation of an ebook, and find new ways to express your photographic ideas.
4 Week Online Program
Expression through Photography
Create your own "Photo Essay"
Curate a Story
Create Connections
Build Consistency
Interactive learning and Discussion
Get Feedback
Prepare for Print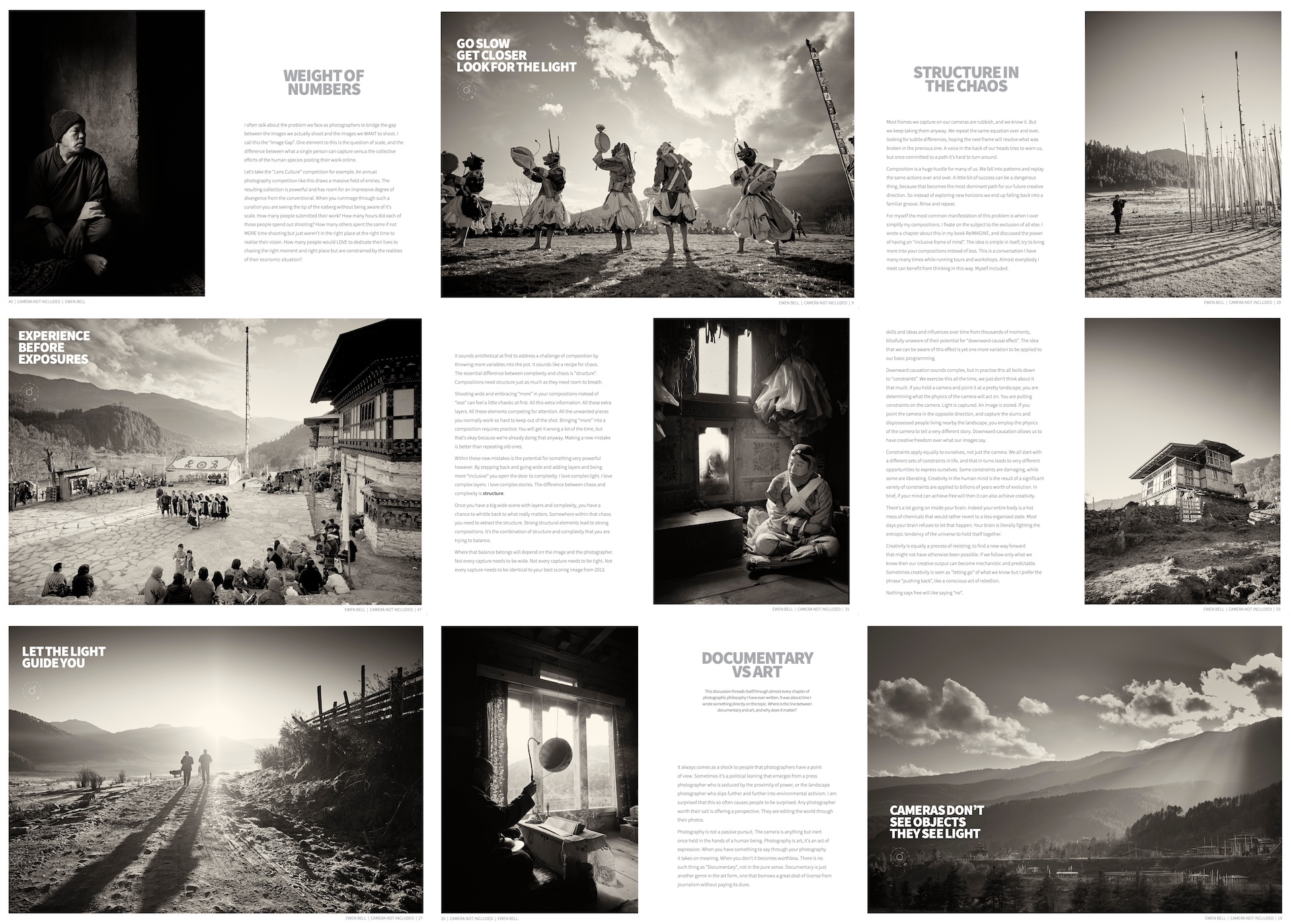 The "eBooks and Curation" program is sponsored by

---
How do we join?
If you think this program might be well received at your camera club, please drop us an email and let's have a chat. We have limited places in the schedule to run these events and are committed to offering the best possible experience every time we run the program. Once your club committee has decided to go ahead with the program, we will supply a signup form and handout for your club, and coordinate the online sessions directly using Google Meet.

Drop us an Email
Course Requirements
Participants of the course will need to have a desktop or laptop for the online sessions, and for working on their eBook. iPads or similar are not suitable for this program. Some experience with processing your RAW files is useful, and a working internet connection is essential. It does not matter if you are an absolute beginner or a seasoned enthusiast – anyone can participate. Each online session runs for 2 hours starting from 6:30pm in the evening. There is also a significant time commitment required in between course sessions to complete the individual creative tasks.
Why is this FREE?
David and Ewen want to share their vision of photography and help others to find their own voice and their own path with the camera. We recognise that not everyone can afford to join them on a two week tour in the Himalayas. Many people join camera clubs to connect with other people who share their love of photography, so Ewen and David decided that was a good place to lend a hand. The courses are supported by Lumix and Panasonic Australia to ensure that there is no cost to camera clubs or their members.

This is our way of contributing something to the clubs, and thereby the art of photography itself.
---
Sponsored by Panasonic / Lumix
This workshop is offered with the support of the Lumix range of G and S series cameras, and Panasonic Australia. Their support makes it possible to offer this course at no cost to the camera club or participants.



---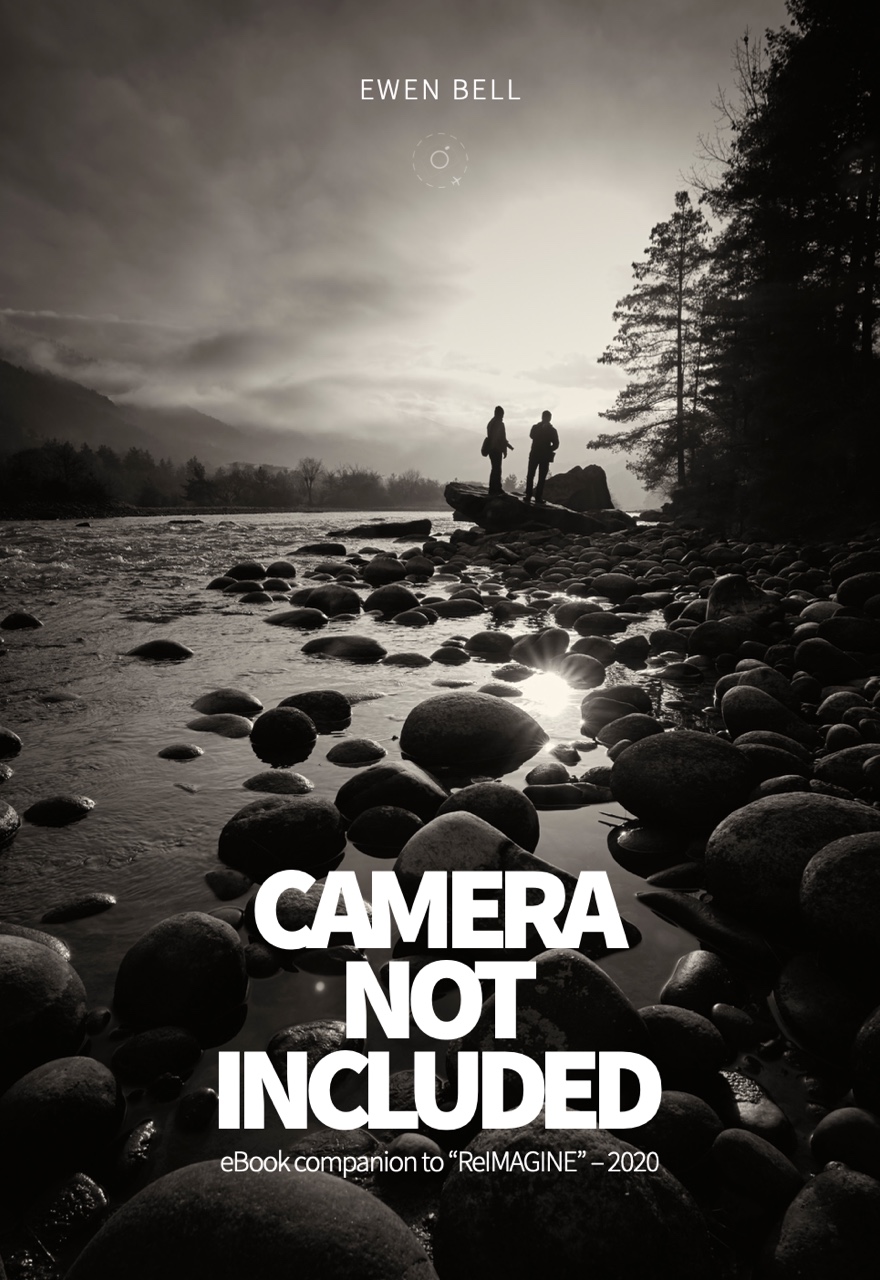 Camera Not Included
Ewen Bell recently released a special 80-page eBook called "Camera Not Included", which is full of gorgeous black and white images in the Himalayas and a small collection of new articles about the philosophy and art of photography. This was an extension to his 2019 book called "ReIMAGINE".

You can get a free copy of "Camera Not Included" when you subscribe to Ewen's newsletter.

Subscribe
---
A few words from our recent workshop participants
Barry Povey
Berwick Viewfinders
Well, I have just completed the online, zoom workshop with Ewen Bell and David Norris on producing an eBook. This has been an eye-opener. We are so indoctrinated into examining one image at a time that we miss out on using the story/connection/conversation that two or more images can have on a page. Doing this workshop has altered/enhanced my way of thinking about such images.

The practical task we were involved in led us clearly though stages, resulted in an eBook that we can share and show. Seeing the eBooks, from participants, develop over the four sessions was most enlightening. The supportive atmosphere helped us talk about and share thoughts on the concepts introduced.

I found new respect for images in my collection that I would never use in a competition but are ideal, when paired (and viewed) with a second or more images. I now see where several images on one page/slide can have a strength greater than their individual sum.

A superb workshop which has influenced how I explore photography. So valuable!

December 2020
Arun Sankaragal
Berwick Viewfinders
"Build your own eBook Workshop" organised by David Norris & Ewen Bell was an amazing learning experience. Learnt how to put an eBook together using the images which are going to complement, not to create contrast, start a conversation, and have some diversity.

I love to capture street & landscape, some of my images have never seen a viewer's eye as it's hidden in my hard drive. This exercise has given me a new perspective of demonstrating my images and moreover able to narrate a story which was experienced by myself while capturing those images.

Lastly, this course has reignited my creativity and will certainly use this skill on my next outing. Using the images which are going to narrate a story and not rely on my best images of the group (kill your darlings )

Thank you very much David and Ewen.)

December 2020
Judy Tricker
Berwick Viewfinders
I would like to thank you for being the generous person you are and taking the time to run the eBook class with us. I learned so much about telling the story about my rocks and how to approach different layouts and text ideas.

It was so nice to be able to showcase the photos that get left behind in the system because they are not 'competition worthy'. I'm looking forward to attempting my next eBook in colour just for a challenge.

I would suggest that if anyone else has the chance to do this class, that they jump at it. Well worthwhile and given me so many ideas to use this idea for.

December 2020
Gail McTaggart
Berwick Viewfinders
Recently some of our camera club members participated in a course, with Ewen and David on how to produce an EBook. It was a fantastic course, in addition to learning the Ebook process and software, which to start with I found quite challenging, I learnt heaps about my photography, how to match photos to tell a story, what photos match together and what ones don't and why. Since the first week I have also changed the way I go about taking photos when out in the field. I take time to consider the wide angles, cropped angles, details and textures of a scene, this has been a huge learning curve for me.

Ewen and David were there to help all the way through, encouraging and challenging me to explore the new concepts I was learning and thoughts I was having through the learning.

Last Wednesday we shared with the whole group the results of our Ebooks and it was fantastic to see how others in the group had improved as well... I'm sure they will all agree with me.

I would highly recommend this course to anyone who (a) wanted to produce Ebooks and (b) wanted to improve their storytelling through photos.

December 2020