Food Photography
Workshop
---
Daylesford, Victoria
Food Photography Workshop
With Shellie Froidevaux & Ewen Bell

For the love of Food Photography. Please join us for 4 day workshops in rural Victoria. These extended programs offer an abundance of gourmet inspiration and professional tuition, with all accommodation and meals covered. We've been running these long form workshops since 2012, when we decided that one day is not enough to really immerse in the love of food.

Shellie Froidevaux (Iron Chef Shellie) is one of Melbourne's most talented and genuine food photographers. Her professional skills include recipe development, food styling and lifestyle photography for hotels, resorts and wineries. Her co-leader for these workshops is Ewen Bell, an editorial photographer who shoots for Food & Travel UK, National Geographic USA, Vacations & Travel AU, and many other publications. Ewen was also former Editor at Large for Digital Photography magazine in Australia and still writes for Digital Photographer in the UK.

Together they offer a wide range of experience and insight to help you take better photos, and love every minute of it!

4 Days in Daylesford
Maximum group size of 6
Priced from AU$3980

Upcoming Dates
24 May 2024



Immersive. Creative.
Informative. Inspiring. Empowering. Everything you need to learn really great
food photography
.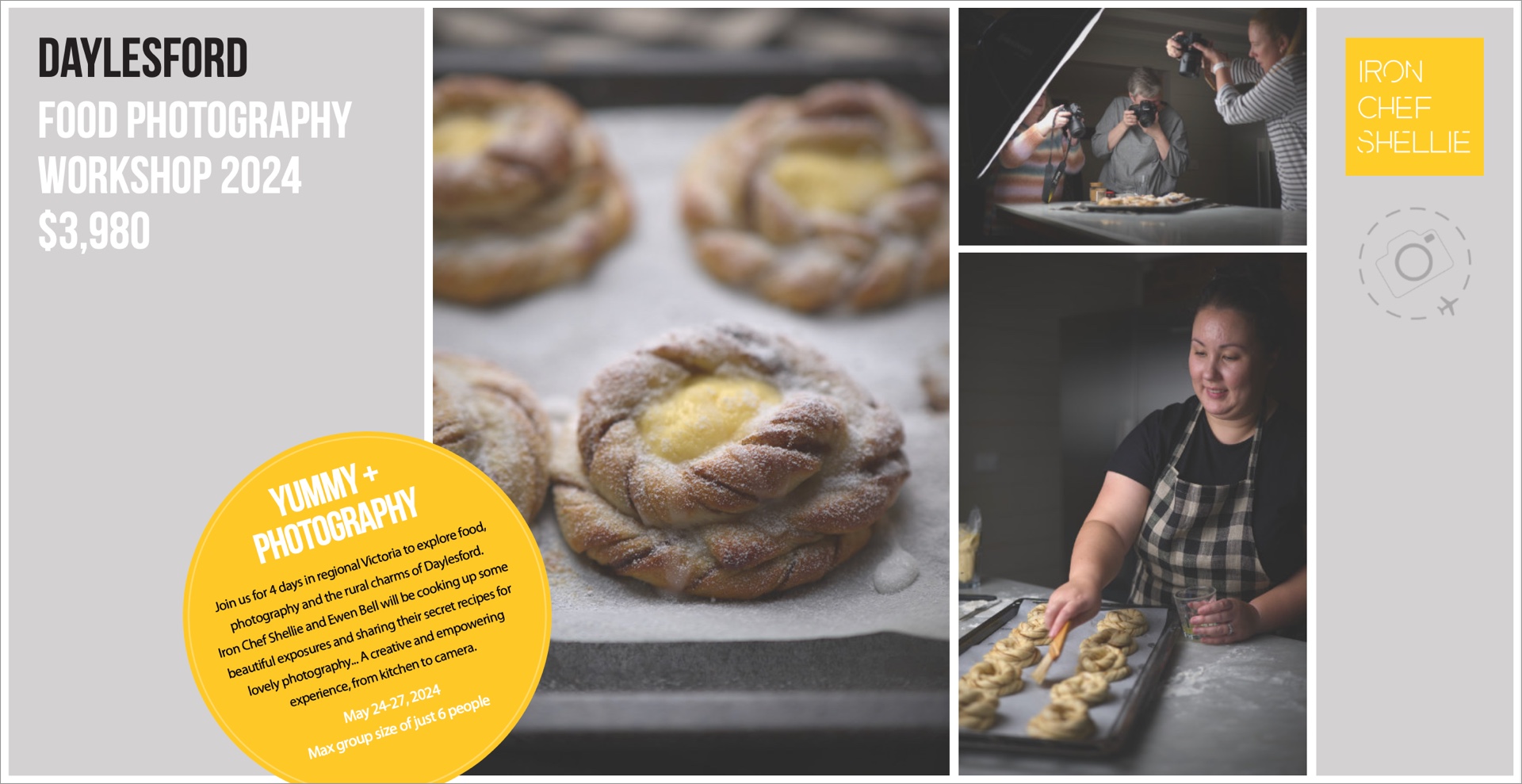 Checkout the PDF
4-day workshops with the works.
Maximum group size of 6.
Bring your camera. Bring a Laptop.
Open to anyone. Beginners and professionals.
What We Cover
Shellie and Ewen will guide you through an intensive program of hands on sessions, with pockets of downtime so you can absorb the workshop material.
Introduction to Food Photography
Styling and Props
Natural Light
Studio Flash
Depth of Field
Composition
Processing Essentials
Print and Publish
Variety and Consistency
Careers and Cashflow
Finding Your Creative Path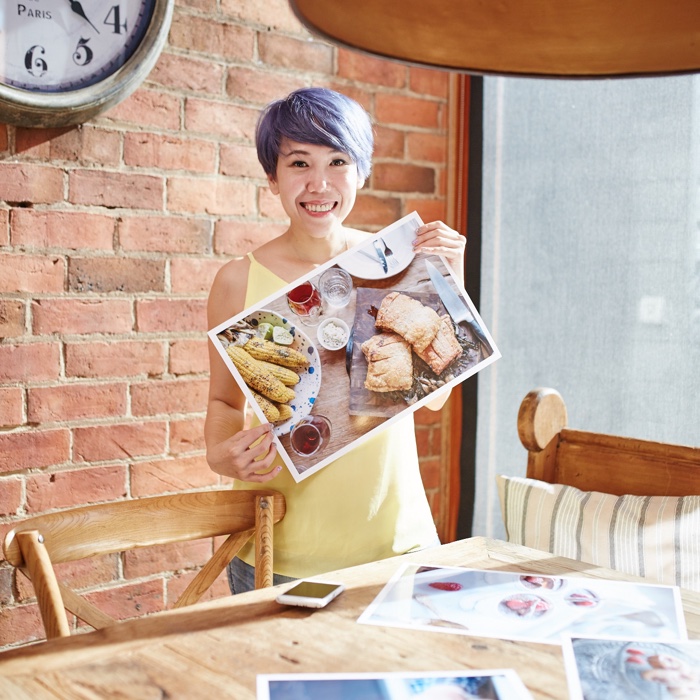 One Is Not Enough
Cultivating new skills takes time. One day workshops are great to get a taste for food photography, but the moment you step back into your busy life of family and work those lessons begin to fade. We love the 4-day format because of the immersive experience, free from distraction and committed to your journey. It's 4 days of learning what you need to learn, what you want to learn and what you never knew you could learn. These workshops are for you, not for everyone. They are indulgent, but they are also bespoke with opportunity to earn new skills that will last a lifetime.
Short but Sweet
Accommodation, food and inspiration are all included. Bring your camera and a healthy appetite for learning. Basic techniques, creative shortcuts, food styling, lighting ideas, processing techniques, folio production and editorial angles for travel, food and wine.
These workshops are open to everyone and anyone who simply wants to enjoy their food and photography. There is time and opportunity to gain new skills during the workshops, and inspiration abounds to the charming regional locations and immense culinary delights. Our schedule is designed to let you enjoy the experience, and learn at the same time.
It's a small group so we offer extremely personal levels of guidance. Two professional photographers on hand for the duration to assist a maximum of 6 people.
Food from a different angle
These workshops are indulgent and immersive, offering a wonderful opportunity to take serious steps forward in your knowledge of how to shoot, process and output high quality food shots.
Yes we'll be spending lots of time shooting sweet treats and fine cuisine. But food photography also goes beyond the food on your plate. These workshops also make a few stops in the local region to search out farm fresh ingredients that make the food special. Documenting the story of food from farm gate to kitchen makes for a more detailed a varied experience.
Because these are regions where Ewen has photographed for many years, you'll also be meeting some of the local people who have helped to make places such as Daylesford and Hobart such wonderful gourmet regions.
Completely Covered
EVERYTHING is included except the wine, and we'll even have a little of that too. The workshop fee covers your accommodation and all meals, nothing additional to pay. Naturally you'll want a taste of the local wine and bubbles, at your discretion. We want you to relax and embrace the charms of each destination, fully. All arrangements are taken care of on your behalf once you arrive at the accommodation.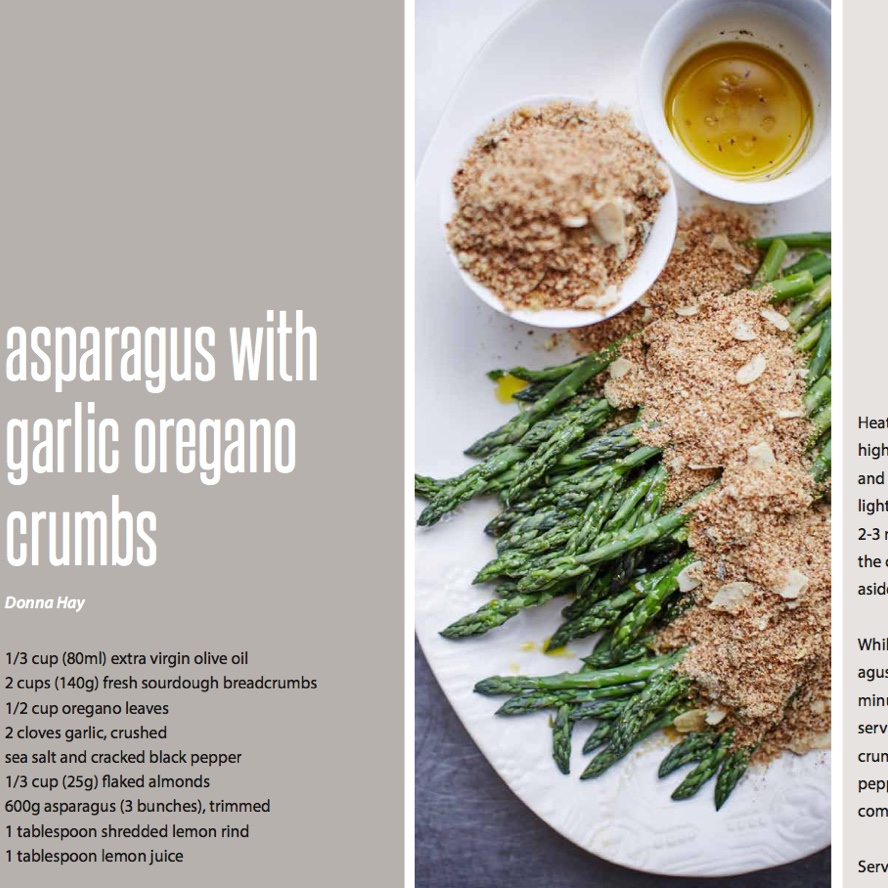 Cooked The Books
Have a look at what we captured on our workshops or try the recipes yourself. Each PDF cook book is a collection of recipes and moments from our 4-day events.

Workshop Cookbooks
Shellie Froidevaux
Food blogger, stylist, photographer, recipe developer and lavishly generous cook. Iron Chef Shellie will be on hand to prepare beautiful dishes, add a touch of styling to our workshops and share her professional experience. Shellie also makes sure Ewen doesn't eat all the smoked bacon for breakfast, most days.
ironchefshellie.com
Ewen Bell
Editorial photographer, journalist and publisher of "Photography for Travellers" website. Ewen has spent over a decade running photo tours and workshops in Australia, the Arctic and Asia. Ewen will share his knowledge on any aspect of photography you wish to explore, from careers to cameras to salted caramel macarons.
ewenbell.com
Food Photography Feedback
We asked our previous guests on the 4-day workshops to share in their own words what they thought of the experience. Please have a read :)
Danie wrote this...
Katherine said...
Jo shared this...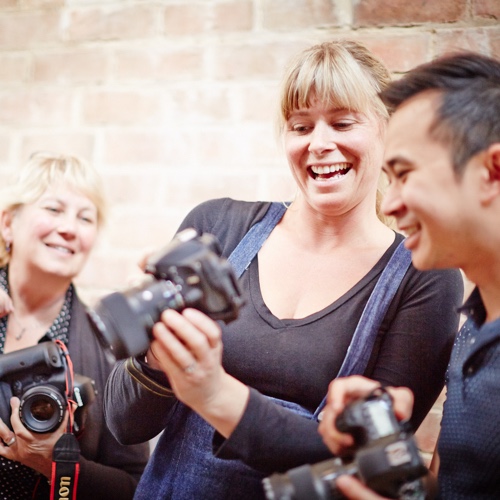 Read all the Testimonials
---
How to Book
Please fill out the registration form below. A non-refundable deposit of $950 is required to confirm your place. In the event of covid/lockdown interupting this event, you will be given full credit towards the next workshop.

Once the deposit is received we'll have a chat about your camera gear and make sure you have everything you need for the workshop before you arrive, plus we'll send you details on how to prepare your review folio. If you're buying the workshop as a special present we can keep that a secret too!