Kenya Bird and Wildlife Photography Workshop
14 day adventure into the wilds of Kenya. Join expert birder Tim Dolby, bird guide Chris Kiarie plus professional photographers Ewen Bell and Fredrik Broman in private landcruisers to explore the birds, wilderness and culture of Kenya. Incredible value and a once in a lifetime journey, full of opportunities to learn more about photography and experience some of the best wildlife in Africa. It's an allstar team to ensure you have a truly remarkable African adventure.

September 12-25, 2019
Maximum group size of 9, priced at US$12,880
---
Tour Highlights

Comfort and Luxury
On the ground we have three landcruisers for our group, with a maximum of 3 passengers per vehicle. Our choice of lodges and tented camps is absolutely first class. Only the best will do. We also include private charter flights to hop in and out of Nairobi.

Destinations
The itinerary has been designed specifically to cover a wide range of habitats, and hence maximise our encounters with different species of birds. We will see plenty of big game during the journey, but this is no ordinary itinerary. It's our dream trip for birds of Kenya.

Lake Baringo
We stay in the middle of this special island in the north of Kenya. The bird life here in rich in colourful kingfishers, Hornbills, Sunbirds, the rare Verreaux's Eagle, a variety of storks, and the Violet Wood Hoopoe.
Bogoria Bogoria
The salty wetlands to the north of Nakuru are some of the best parts of Kenya to see the Flamingo, plus the magnificent Grey-crowned Crane, Rufous-crowned Roller and the Abyssinian Scimitarbill.
Lake Nakuru
We also spend time around Lake Nakuru to increase our chances of Flamingo in case Bogoria is too dry. Elementatita Serena camp is quite magnificent and bird wlaks through the low-canopy savannah will be rewarding.
Maji Moto
Unique Masai experience on the edge of the Masai plains. We spend time with Masai Warriors and will enjoy the company of weaver birds, sunbirds and barbets. It's a hotspot for smaller bird species in a very dry and rocky landscape.
Masai Mara
Why just visit the Masai Mara when you stay inside the park? We have two wonderful camps lined up that offer excellent access to safari drives, plus each one is a haven by the river for a variety of gorgeous birds.

Expert Guides
Ewen and Fredrik are both professional photographers with decades of experience leading tours and mentoring. They both have a unique connection to Kenya. Tim and Chris are wonderful bird experts, passionate about their enjoyment of the wilderness and sharing their knowledge.
Full Details in the Brochure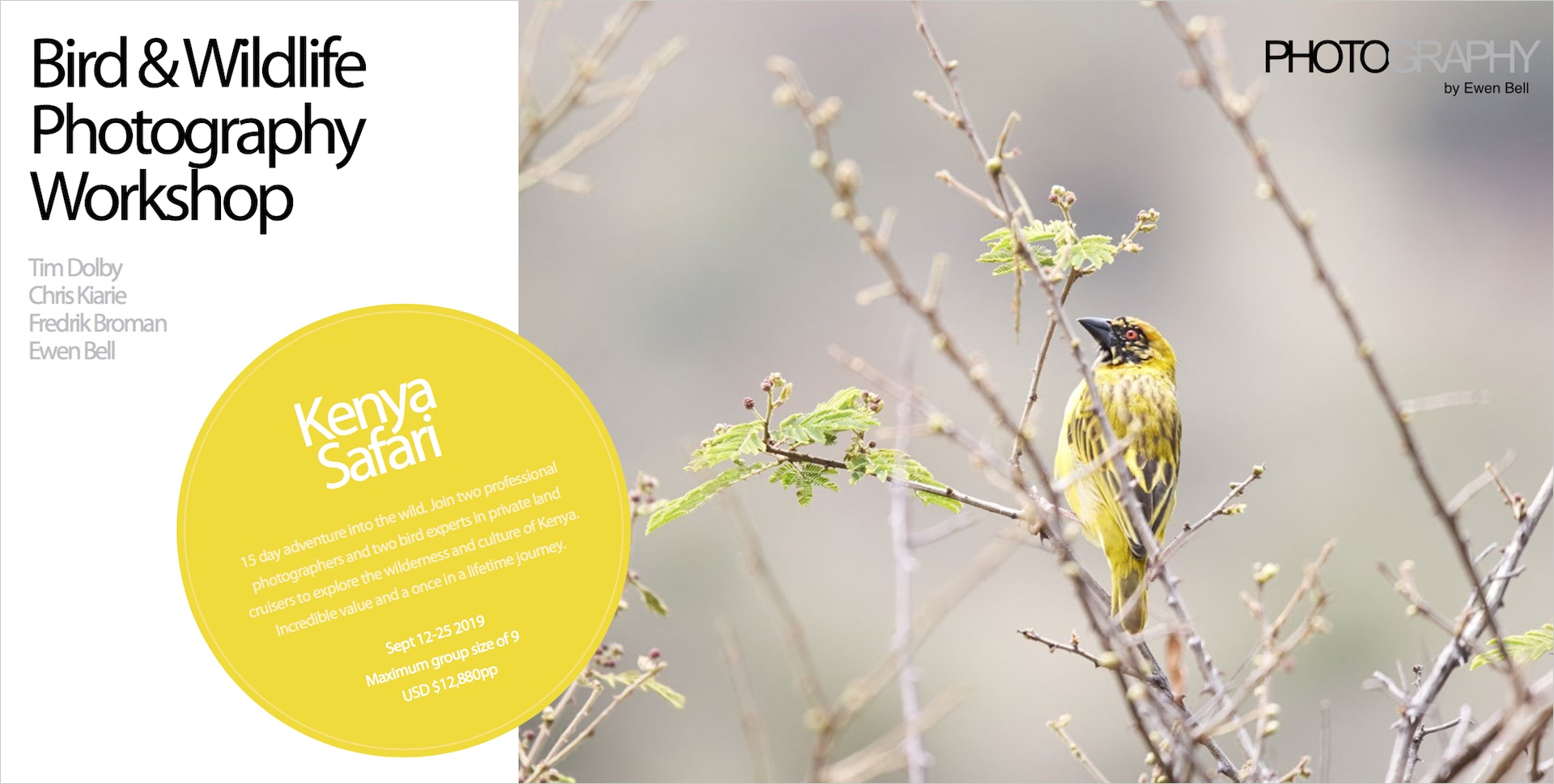 ---
How To Book
If you have a few questions and want to chat to Ewen, just click the button below to complete the booking form and deposit. Once you've paid the deposit of $2,000 your place on the tour is confirmed. If you wish to upgrade to a single room we can add that to your booking as well.


Checkout the PDF
Ask a Question
Click here to Book
---
---
Photos and Stories from our 2017 tour
---
Meet The Photographer
"My name is Ewen Bell and I love photography. Being on safari in Kenya is one of life's truly great experiences. The wildlife and wilderness offer incredible inspiration for photography, and the people of Kenya make it a travel journey that you will remember for a lifetime. I can't wait to get back in 2019 and share the journey with my good friends, Fredrik Broman and Tim Dolby."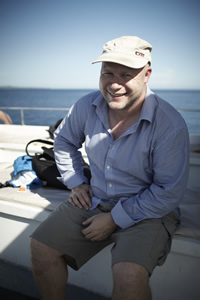 ---
The World's Best Photo Tours
You won't find a better tour experience: Unmatched knowledge of the locations and local support, hand crafted experiences that run only once every one or two years, our experience teaching the art of photography and a commitment to smaller group sizes.


Read Feedback from our Travellers

We ask our guests to share a few words on their experiences
when they travel with us for a workshop or a tour.
Please have a read :)


---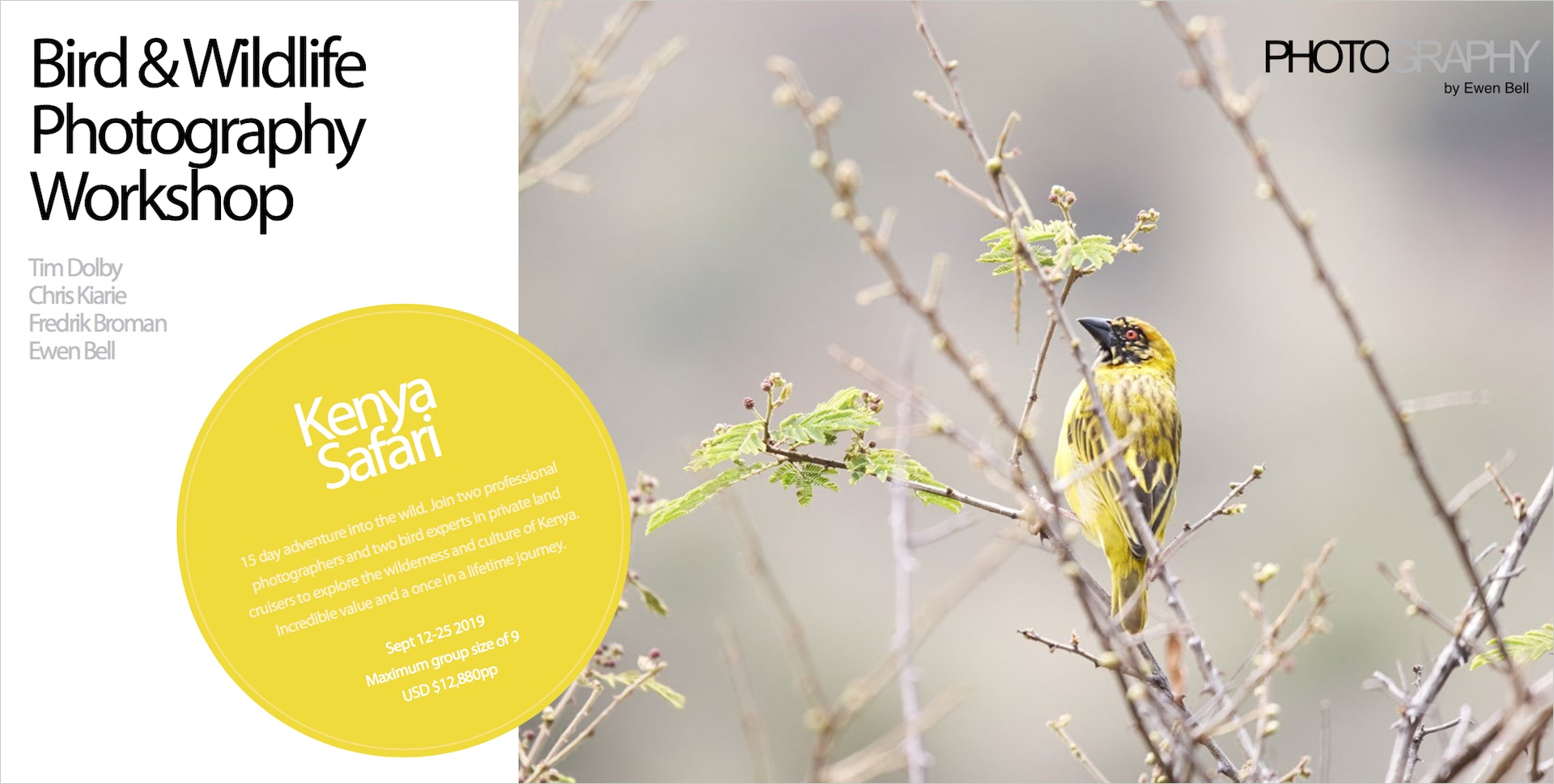 Checkout the PDF