Swedish Lapland Photography Tour
Join us for 14 days immersed in the warm culture and winter landscape of Swedish Lapland. Absolutely unique photographic journey into Arctic Sweden while enjoying the very best of Lapland hospitality. Our close relationships with local photographers, guides and Sapmi people makes this journey one you won't want to miss out on.

February 3-17, 2019
Maximum group size of 8, priced at AU$12,800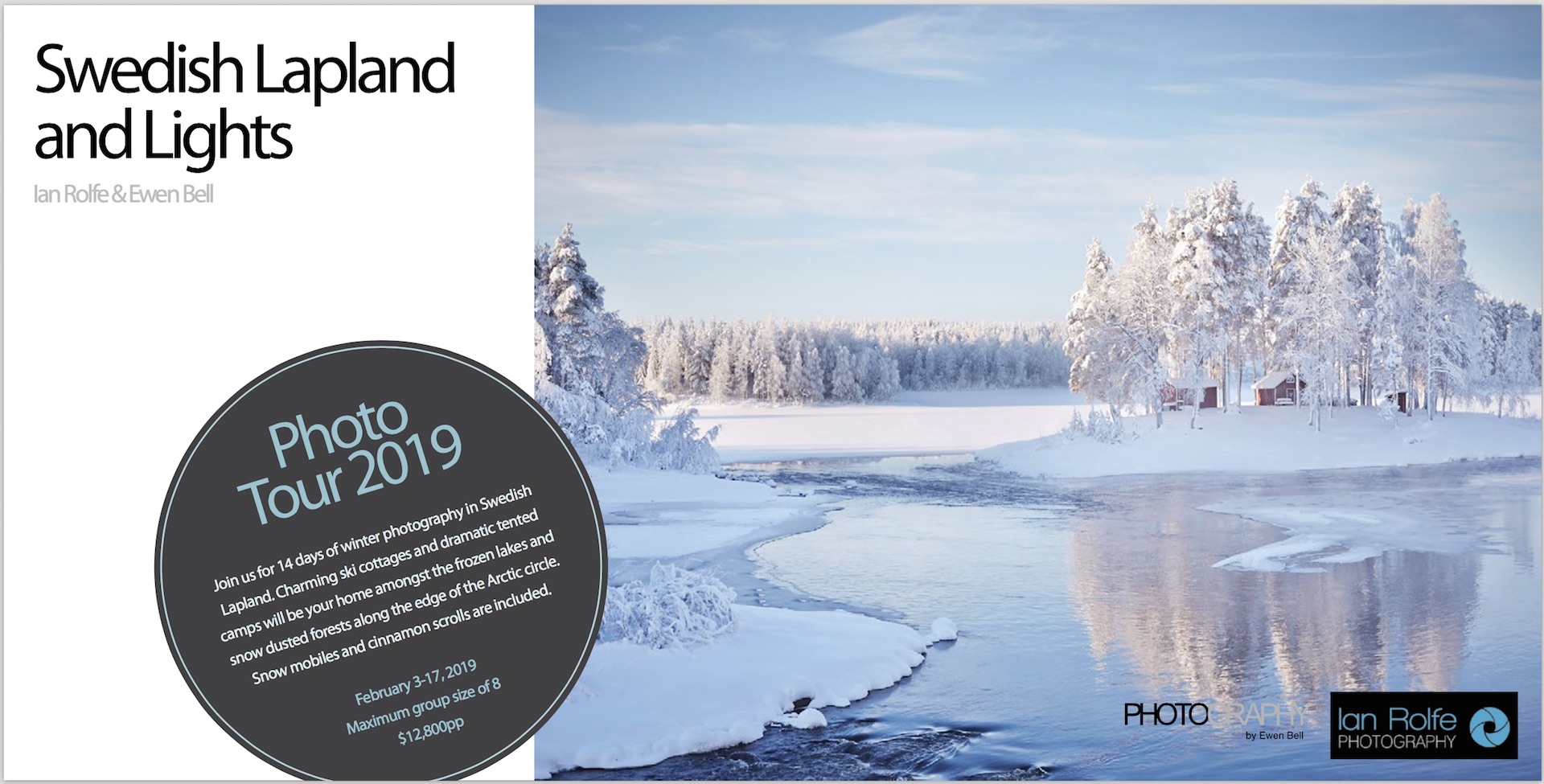 Itinerary
Day 1-2 / Luleå
We meet in the sub-arctic city of Luleå and head off to a remote island in the Luleå Archipelago. We have charming cabins by the frozen shore and a fleet of snow mobiles to get us further out onto the sea ice. We have a full day of excursion plus each night offers excellent opportunity to photograph the Aurora Borealis if the skies are clear. We also allow time to visit the UNESCO listed old town of Gammalstad.

Day 3-4 / Aurora Safari camp
Our adventure continues across the snow and ice as we head overland to the Aurora Safari Camp, winding through forests and over rivers on the snow mobiles. We arrive at the tented camp with hot chocolate and a burning fire to keep warm. We have two nights here to enjoy the pristine setting and meet locals such as Richard and his dog sled.

Day 5-7 / Jokkmokk
For three nights we embed ourselves in the centre of a traditional market that has been running for over 400 years. Jokkmokk Winter Market has been the place to buy reindeer skins and furs every winter for the last few centuries. We will enjoy the cultural festivities of local Sapmi people and have plenty of time to explore the market, the museum and the seasonal cream filled buns known as Semla.

Day 8 / Kiruna
We follow the iron roads to the town of Kiruna, famous for the impressive Ice Hotel. We make a day visit to explore and photograph the cool colours inside, and then head for a warm cabin and sumputous dinner. On our way out of Kiruna the next day we also make a stop at the gorgeous wooden church.

Day 9-10 / Åbisko
This national park is a treasure of Swedish Lapland, nested against the edge of Lake Torne and a haven for Aurora sightings due to the unique geolical situation that creates a weather shadow. Here we have the best chances to sight the Northern Lights. We visit the Sky Station and spend a night down by the shores of lake waiting for aurora activity.

Day 11-13 / Björkliden
The final leg of the journey goes a little further along Lake Torne and up the hill, to the skiing village of Björkliden. We have some cabins here that overlook the lake and the "Laponnian Gates". We have three nights dedicated to shooting the Aurora, with great locations on offer for photography a short walk up the hill or even right on the balcony of your cabin.

Day 14: Departure
We will be able to get you back to Kiruna Airport (KRN) in time for the 2:45pm flight to Stockholm. We will also give you the option to drop off at Abisko Train Station if you decide to continue your journey into Norway by rail.
---
How To Book
If you have a few questions and want to chat to Ewen, just click the button below to complete the booking form and deposit. Once you've paid the deposit of $2,500 your place on the tour is confirmed. If you wish to upgrade to a single room we can add that to your booking as well.


Checkout the PDF
Ask a Question
Click here to Book
---
The World's Best Photo Tours
You won't find a better tour experience: Unmatched knowledge of the locations and local support, hand crafted experiences that run only once every one or two years, our experience teaching the art of photography and a commitment to smaller group sizes.
Beginners Welcome
These tours are not just for advanced photographers, we love welcoming beginners to the craft to help them fast track their creative abilities. Sharing what we know and giving other photographers a truly wonderful experience is the best part of running these tours. If you're ready to learn new skills while you travel then this is the trip for you. If you want to spend quality time with like minded people and enjoy the sharing of knowledge and experiences, then we would love to have you along.
8 is Great
If you have to share a tour with dozens of other photographers, then it's just a tour instead of a photo tour. Smaller groups mean less drama, more fun and are infinitely more rewarding. My first responsibility is to ensure every person on my tour gets plenty of my time and advice, and with fewer photographers in one place you will come home with better photos and the best light :)

Small isn't just good, it's great!