RAW WORKFLOW

Lightroom and Capture One get most of the attention when shopping for RAW Workflow software, but in recent years both have moved towards subscriber only pricing. After an appalling lack of camera support from Capture One in 2022 I started looking seriously at my alternatives. I've been a Capture One fan since the early days. No really, the very very early days. We're talking more than two decades ago when version 3 hit the internet and Lightroom didn't even exist yet. Back then Aperture on MacOS was the main alternative, or you had to pull images through one by one in Photoshop. Capture One was a clear winner back then. Today there are tonnes of options on the market, admittedly most of them "not quite right".

DxO PhotoLabs is feature rich and quick to learn. What's on offer is a lot of good technology, a half decent user interface and some simple pricing advantages. It also plays nicely with LUMIX cameras – but more on that later. The defaults tend to be a little heavy handed for my style, and need dialling back for practical use. But it does deliver professional results. Once you get control of the sheer variety of tools on offer, DxO starts to look like a genuine alternative to Capture One or Lightroom.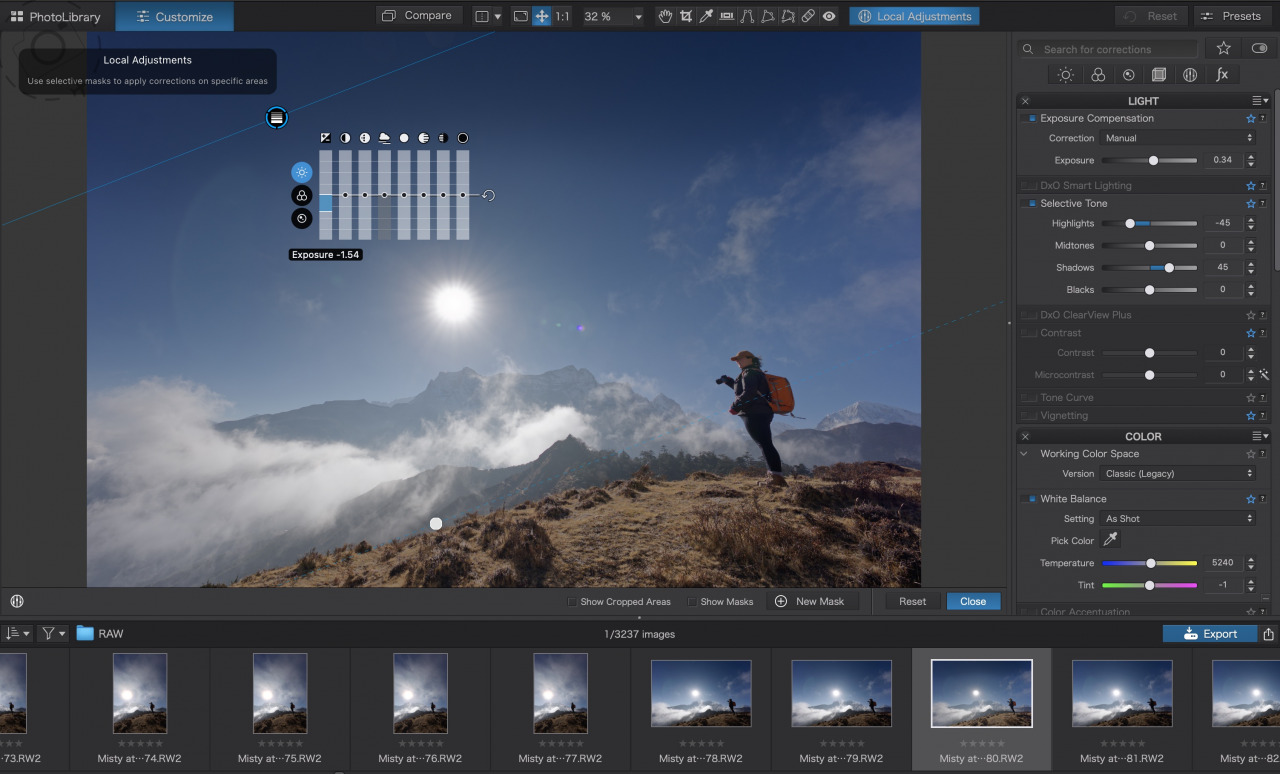 CATALOGUE FREE

DxO PhotoLab ditches the catalogues and libraries, in favour of more simplified editing. You point the software at your folder of RAW files and it builds a quick and dirty index of the contents, which are stored locally on your machine. When you edit a file those changes are stored into a local file next to your RAW file, making it easy to take your work from one computer and move to another.

The range of manipulation tools available are impressive. At times the interface is cluttered with options that I don't really care about, especially the automated features that try to make your image jump off the page with the click of a button. There's room to simplify the tool range in my view – even the noise reduction interface offers four different engines to choose from. There's a touch too much marketing in play here, with fancy names for various "modules" and the option to upgrade to the "elite" version where all the best modules are already loaded. I wish they just put the stuff that works into a single edition and stop with the malarkey.

Some of the tools are very heavy handed, and indeed the default settings were too pimped up for my tastes. Too much contrast, too much sharpening and too much vibrance. I created my own set of defaults, which DxO let you set in the preferences. This means when I open a new folder of RAW files I can have my personal style of defaults applied right out of the gate. Nice.


LAYERS AND HEALING

The power tools for me when using Capture One were its superior application of healing brushes, and the ability to create layers and masks to seriously fine tune an image. DxO keeps up with Capture One's functionality very nicely. Version 6 of DxO PhotoLabs now has a keystone tool as well, which was something I struggled to live without for the precise nature of our studio work.

Things such as dropping in a gradient to pull back dynamic range in the sky, or brushing in a layer across a subjects face to lift the highlights, are easy to complete in DxO PhotoLabs. Some things are clunky compared to Capture One, such as the extra keystroke required to output a final image, but switching between programs is always going to require relearning some keystrokes and looking for tools in menus. Unlike Capture One, which is built around layers for adjustments or masks, DxO PhotoLabs hides away the various layers in the "Local Adjustments" tab and employs some quirky floating menus to access the tweakable options.

For the most part the interface is intuitive, and the tools do what you want them to do. Capture One still offers more latitude to push some of its tools, with a view to being creative rather than "accurate". DxO are all about fidelity of the image and perhaps have missed the opportunity to appeal to photographers who want an artistic expression rather than lens corrections.


FEATURES vs INTERFACE

There's no advanced tools for Panoramas or HDR in the current version of DxO PhotoLab. Ironically, these were features Capture One introduced before they updated their support for certain LUMIX cameras which means I never upgraded my license and never got to try. I use Affinity Photo for such things in any case, a marvellous alternative to Photoshop that is incredibly well priced and does not require a subscription. Tethering support is not a feature of DxO PhotoLabs either, but that too was problematic in Capture One.

The modest set of features offered in DxO PhotoLab is not a big deal for me. The basics work well and deliver excellent results for a wide range of situations. While they like to talk up their noise reduction algorithm I will say that Capture One has an advantage there. A real annoyance with DxO PhotoLab is a select few tools which are not enabled in the "Elite" version, the most expensive release available. Things like Split Toning are disabled unless you buy the Film Pack, which means your options for custom monochrome conversions or DIY creative presets are very very basic indeed.

Support for lenses and cameras is the main advantage for DxO. When you load in RAW files with a new camera or a different lens it hasn't seen before, the software checks the DxO website and automatically pulls down any modules that support your hardware. That means that you don't need to upgrade the entire package, just to upgrade your camera. That's a major advantage for a RAW workflow package without monthly fees.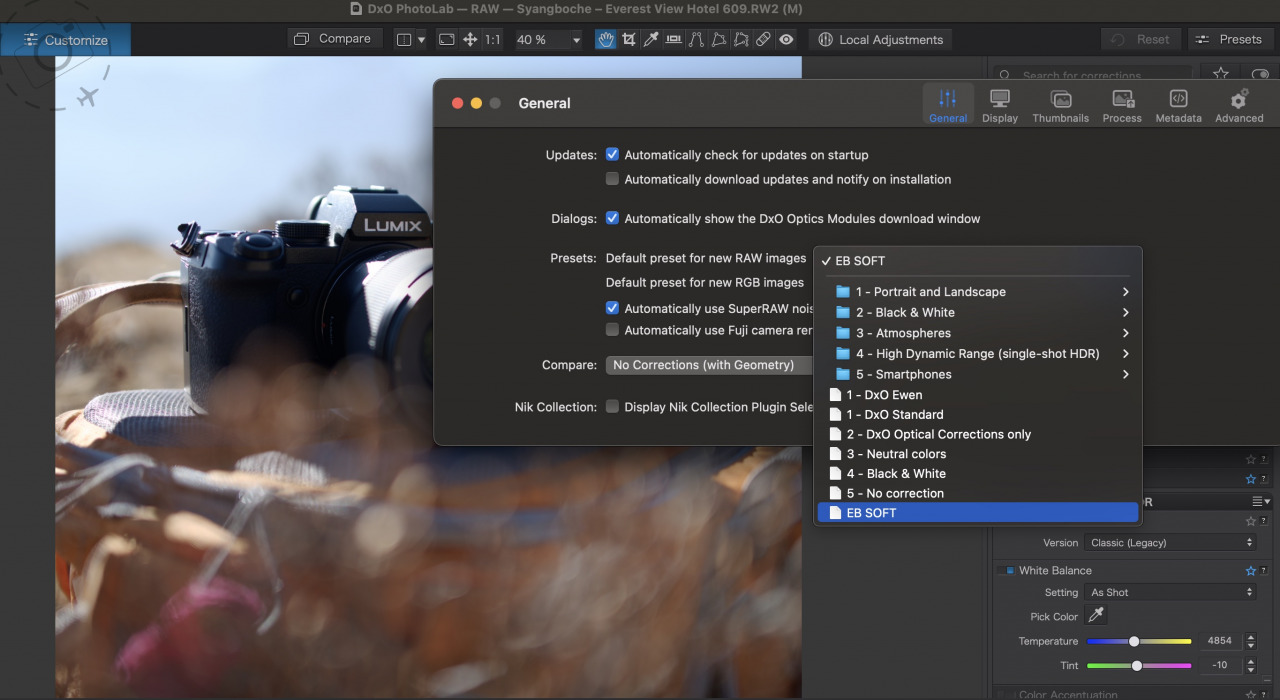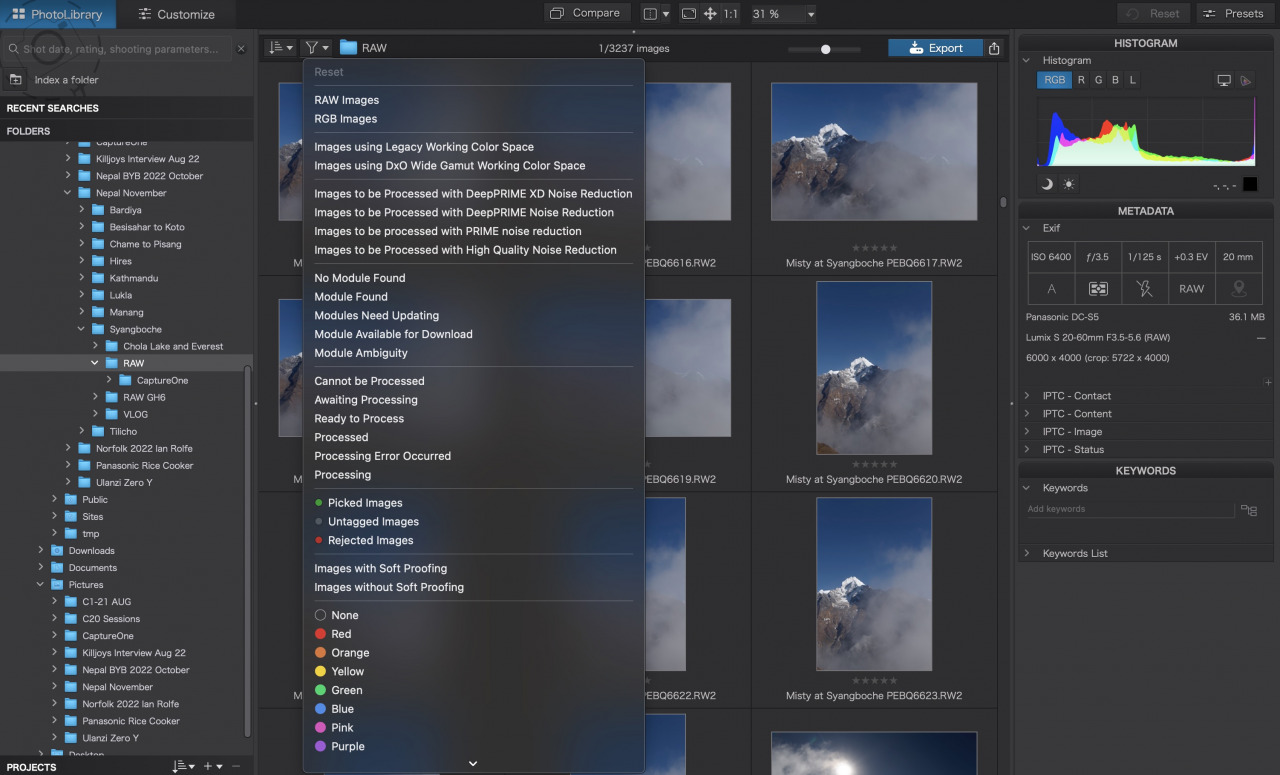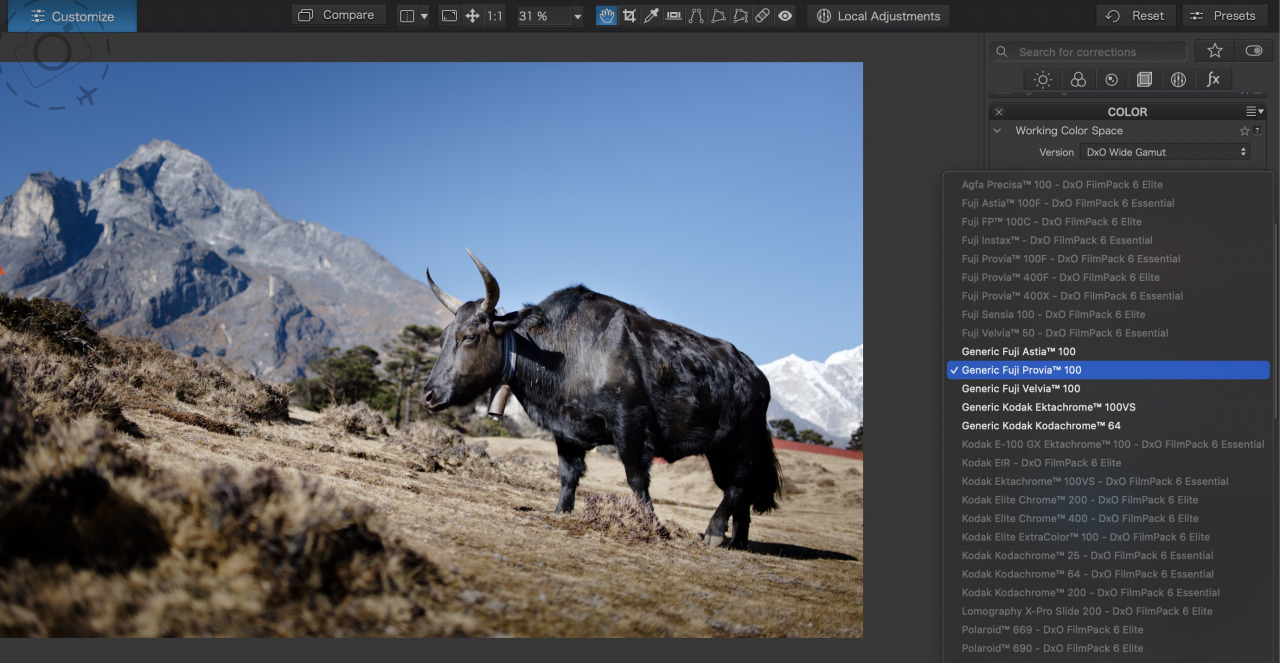 OTHER ALTERNATIVES

ON1 Photo RAW is heavily focused on AI powered editing, going far beyond simply processing your RAW files. Limited support for LUMIX models (Still waiting on GH6 support) and tethering restricted to Canon and Nikon. Pricing is very confusing with subscription and standalone options available, plus separate billing for different modules.
https://on1.com/store/on1-ppb23/

Darktable is the open source alternative to Lightroom, which mimics the Lightroom vibe in many ways while offering more geeky controls over your RAW files. It runs on Linux, Windows and Max, and offers a lot more functionality than you might expect from an open source project. GH6 Support not available as of Jan 2023.
https://darktable.org

SilkyPix is another longstanding RAW processing tool that is popular in some markets. It leans on the geeky side even more than DxO, evoking a strong "shareware" vibe despite its commercial underpinnings.
https://silkypix.isl.co.jp


LUMIX FRIENDLY

I first gave DxO PhotoLabs a look when I started shooting with the LUMIX GH6. Even though the model had been in stores for over 6 months at the time, Capture One still had no support for the GH6 RAW files. Each month they would say support was "coming soon" and each month a new round of angry comments would land on the forums. This was especially frustrating for LUMIX owners who were paying a monthly subscription to access Capture One.

The other good news from DxO is they do support the "hires" mode on LUMIX cameras, so those 100MP images off the GH5 or S5 will play nicely in the DxO PhotoLab interface.

Meanwhile there's a new camera in town from Panasonic, the LUMIX S5II is so new that, as of January 2023, DxO PhotoLabs 6 doesn't have a dedicated module to support the camera. No problem though, I was able to use "exiftool" on my Mac and run a simple command that updates all the RAW files in a folder to mimic the older LUMIX S5. The cameras share a very similar sensor output, and DxO recognises the images off the new LUMIX S5II very nicely once the model name has been updated. I tested the same exif-hack on a variety of other RAW editors (Photoshop, Lightroom, Capture One, ON1, Darktable, Affinity Photo) with no success. Only DxO played nice at this point in time.




>> exiftool *.RW2 -Model="DC-S5"


PS, CAPTURE NONE

As for my old friend Capture One, their lack of support for LUMIX when it comes to tethering or basic RAW files feels like the old days when Phase One decided they would stop playing nicely with Hasselblad or the Pentax 645Z. For me it undermines my trust in the company. Even if they support my camera today, will that stop tomorrow? I've raised the LUMIX support issues with Capture One on their support forums, and let's just say their official responses have been underwhelming.

Please Share Your Thoughts