On a dusty track in the fields of Bagan, a remote temple sits silently on sunset. An iron gate blocks entry inside, but from the archway you can just make out the figure of a statue within. Flakes of gold reflect the faintest of light, so deep inside the temple and far from daylight that the human eye can barely determine what pose this buddha represents.

I'm carrying a Nikon Df with a 50mm f/1.8 lens. With the ISO set to auto and the aperture at f/2 I take a few shots with a shutter at just 1/60th of a second. It's so dark that I struggle to find something of contrast to get a focus lock. I grab a few frames and look on the rear display to see if there is anything worth seeing.

It won't be the most dramatic image from travelling around Myanmar but it was genuinely impressive. What the human eye failed to detect was suddenly revealed by the 16MP sensor. Bright and balanced, the resulting capture was rich in detail despite being pushed to an extreme ISO. Not only was noise kept to a minimum but the dynamic range performance was genuinely impressive.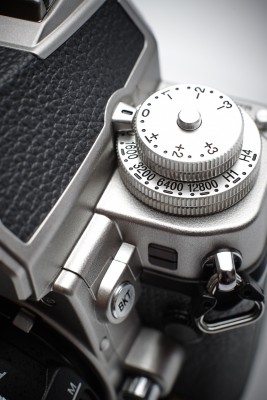 The key strength of this camera is not the classic styling, but the superb quality of images it captures. On the streets of Yangon, in harsh mid-morning light, the dynamic range of the camera really showed it's muscle. Shooting straight into the sunshine, trying to capture the vintage coaches that serve for public transport in Yangon, the Df manages to hold onto colours and detail in a way I'm not used to. It adds another tool to your kit as a street shooter.

My first processing of RAW files from the Df was in black and white, something of a lazy option when shooting urban style because it takes less time to assess and sort the shots. It also shows you how much detail is really hiding in the image, as you bring up shadow detail and push the RAW file for depth. After filing a photo essay with the black and white I dug through the set for some possible cover shots, and stepped into the colour palette.

Having composed and reviewed and processed my impression of Yangon in monochrome it was a revelation to see how much colour was hiding in the captures. I'd shot these streets before with some very nice professional gear, chasing the same kind of washed out light, so wasn't expecting to see so much richness in the colours coming back this time.

The Nikon Df responds best in the shadows, it holds onto the under exposed detail and saves room to pull it through in processing. Looking at a response curve for dynamic range shot in a test studio is one thing, but pushing that range out on the streets is where you see the difference. It's the image quality of a D4 in a lighter and less obtrusive package.

It's a seductive package that Nikon have put together, well capable of toughing out two weeks of travel across Myanmar slung on the shoulder and stuffed into a messenger bag. But not without it's flaws. Across two weeks of hard travel in Myanmar the ergonomics of the Df proved challenging at times.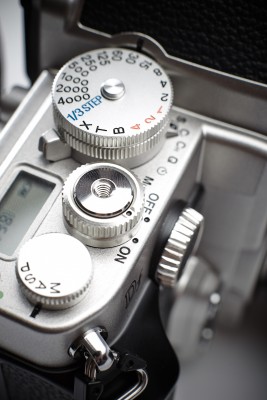 Switching from aperture priority to manual is a clunky and slow process and easy to get wrong in a hurry, the dial designed to be accident proof when tossed in the bag but also proving a little bit photographer proof in the process. The lack of a custom mode dial was a genuine drawback, especially with so many other dials taking up the top deck that so rarely get used. A single SD slot and modest battery capacity seem poorly matched against the quality of sensor and build.

That retro feel has led to some ergonomic quirks where style has won out over substance. Even the on/off switch is not so quick to work with one hand. For people who like working in aperture priority the Df requires a trade of between an inconveniently located dial facing forward on the body or configuring it to swap control to the rear dial that is easily nudged and knocked when in use.

Sluggish autofocus and misreading white balance were also an issue on occasions. Not often, but more than you expect from a D800. The sensors strength is shooting in difficult light, be it very dark or very harsh, and yet this is when the autofocus has the most trouble.

Quick access of exposure compensation and bracketing is more thoughtfully engineered with dedicated controls within easy reach. Our review model also experienced some inconsistent behaviour with exposure lock and we managed to freeze the camera once every few days. Shooting burst mode on a fast card will test any modern camera and it's not unusual to see them crash when pushed too hard, and it's rare we don't find a way to crash a body on a professional shoot. With a firmware version 1.0 on our review we know these minor niggles will see improvement.

The external style evokes considerable nostalgia for the Nikon's of the 1970s while packing contemporary technology inside and out. At first glance the Df looks like it might weigh more than a lump of lead, when in fact it's comfortably light in the hand. The devil is in the detail, however, and as you get to know the camera intimately it proves to be neither retro nor leading edge, sitting half way between the two.

What matters most are the images you keep and how much latitude you discover back on the desktop. In this respect the Df is a wolf in sheep's clothing. By keeping the pixel count modest and skipping on features like fast frame rates and video Nikon have built a one of the most dedicated DSLR designs we've seen in a decade.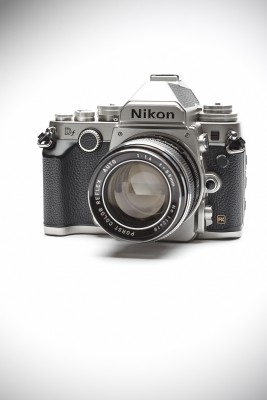 Please Share Your Thoughts