Norway Aurorascapes Photographic Workshop
Join us for 14 days of winter wonderland and dedicated aurora chasing in Arctic Norway. Charming fishing cottages and dramatic coastal scenery will be your reward for this adventure. A unique and inspiring immersion into the rugged landscapes of Tromso, Senja & Lyngen, with the help of local experts and two profressional Photographers and a private chef. This is the best aurora chase in the Arctic, with the best people, the best locations and the best chances of getting great shots of auroras and the landscapes.

February 10 - 23, 2021
Maximum group size of 8, priced at AU$14,888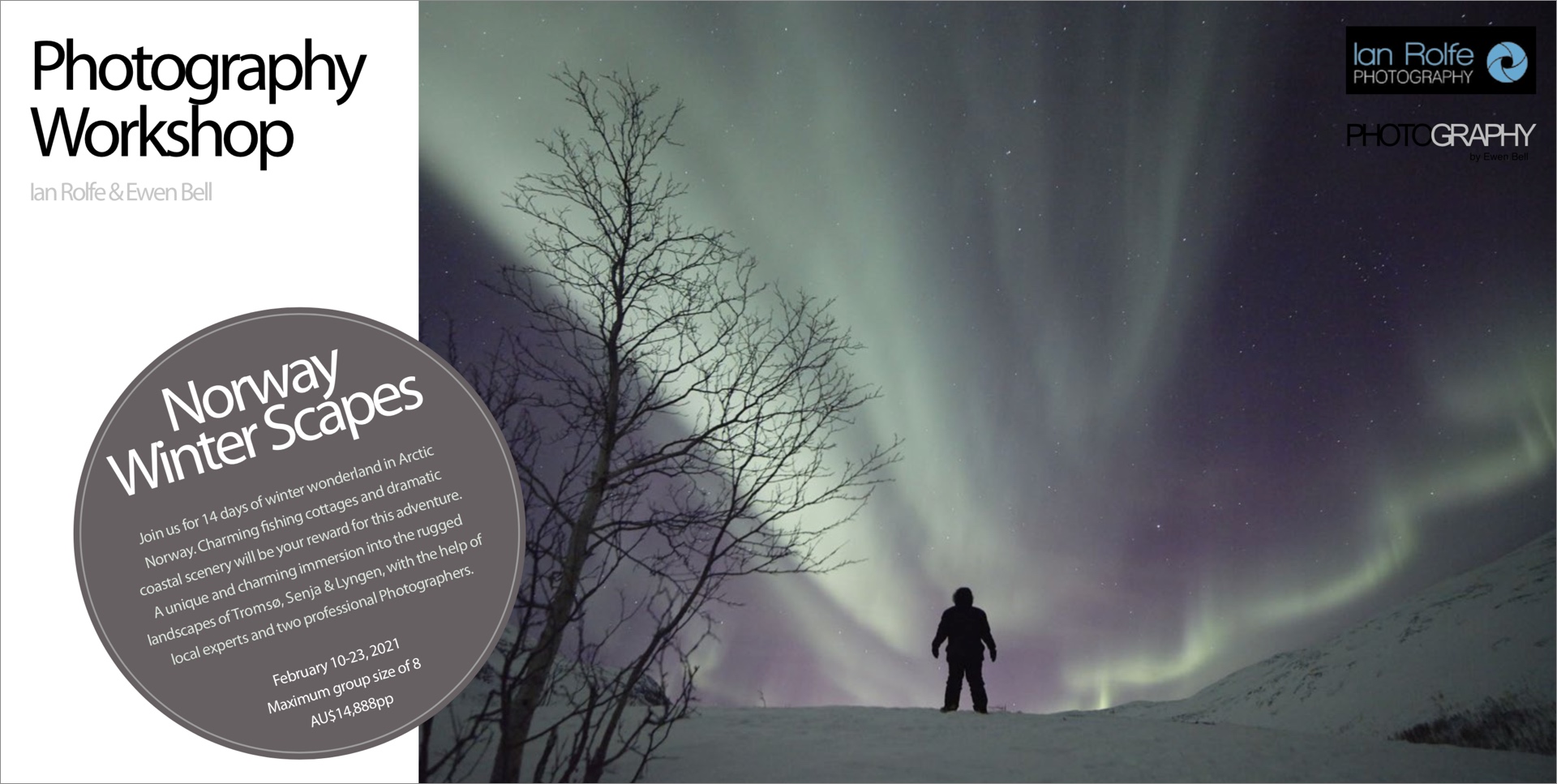 Checkout the PDF
Ask a Question
Click here to Book
---
Itinerary
Feb 10/11/12 - Tromso
Our home for these three days are some lovely cabins to the west of Tromso, right on the water. It's a remarkably peaceful part of the coast and ideal for chasing auroras should we get clear conditions at night. We've picked out some exceptional locations to photograph around the islands of Kvaloya and Ringvassoya, plus we'll traverse into the city of Tromso and explore some of the fjords to the east of the hills. We want to ensure that everyone on the workshop has a chance to practise their night photography and adjust to shooting in the cold.

February 13/14/15/16 - Senja
We have a 4 hour drive to reach our next location, the remote coastline of Senja. Along the way we pass sweeping hills and quiet coastal communities, before hitting those dramatic plunging fjords that we love so much. The weather here can be equally dramatic, with sudden bursts of snow or breaking sunlight giving us different charms to photograph. We have also picked out some locations for Aurora photography on the nearby coastline.

February 17/18 - Grov
We head a little further south to a hidden gem on the coastline, a small fishing village with some very adventurous locals and some stunning scenery. We'll get out on a fishing boat to enjoy the scenery from a very different perspective, and capture some night scenes of frozen lakes and dramatic mountains.

Feburaury 19/20/21/22 - Lyngen
Lyngen is a sensational backdrop for chasing the northern lights, and has plenty of wonderful scenery that makes getting up in the mornings a special treat. We'll spend some time with the locals to get out and access some unique destinations and magnificent scenery. Our cabins provide a wonderful viewing spot for auroras with scenic options just around the corner. This part of the tour is timed to shoot auroras with generous moonlight, giving us those rich blue skies and the most vibrant of greens in the night sky.

February 23 - Departure
We leave the cabins at 10:00am to head to Tromso to catch our afternoon flights back to Oslo and beyond.
---
---
How To Book
If you have a few questions and want to chat to Ewen, just click the button below to complete the booking form and deposit. Once you've paid the deposit of $3,500 your place on the tour is confirmed. If you wish to upgrade to a single room we can add that to your booking as well.


Checkout the PDF
Ask a Question
Click here to Book
---
See For Yourself

Watch this short video from our 2018 Winterscapes Workshop
and see why you should join us for 2021.


---


Read Feedback from our Travellers

We ask our guests to share a few words on their experiences
when they travel with us for a workshop or a tour.
Please have a read :)


---
The World's Best Photo Tours
You won't find a better tour experience: Unmatched knowledge of the locations and local support, hand crafted experiences that run only once every one or two years, our experience teaching the art of photography and a commitment to smaller group sizes.
Beginners Welcome
These tours are not just for advanced photographers, we love welcoming beginners to the craft to help them fast track their creative abilities. Sharing what we know and giving other photographers a truly wonderful experience is the best part of running these tours. If you're ready to learn new skills while you travel then this is the trip for you. If you want to spend quality time with like minded people and enjoy the sharing of knowledge and experiences, then we would love to have you along.
8 is Great
If you have to share a tour with dozens of other photographers, then it's just a tour instead of a photo tour. Smaller groups mean less drama, more fun and are infinitely more rewarding. My first responsibility is to ensure every person on my tour gets plenty of my time and advice, and with fewer photographers in one place you will come home with better photos and the best light :)

Small isn't just good, it's great!