O'Reilly's Retreat is a haven for wilderness lovers, with good access to walking trails and offering a comfortable place to stay where you can wake up each morning to the sound of whipbirds and currawongs. Due to a decades of habitualisation to humans there are many individual birds here that are easier to get up close to than you would expect. Guides and visitors to O'Reilly's have been rewarding bowerbirds with treats for over a decade now, on a daily basis. The promise of a few sultanas has changed the wildlife experience here – for better or worse. Definitely for the better if your goal is photography.


Mountain Trails

The road from the lower plains up to O'Reilly's is very beautiful and a little tricky. It demands patience as you navigate switchbacks and single-lane passes. Nailtail wallabies feed and sun-bake along the lower stretches of the drive. Eventually the road leaves the eucalyptus and disappears into the darkness of a rainforest, becoming a single-lane road with occasional passing bays.

O'Reilley's is in the middle of a rainforest, so it does get rain occasionally. The folds of mountains running northwards along the coastline of Queensland are very good at trapping the weather and nourishing it's wilderness. The mix of humidity, warmth and rugged inclines creates an amazing variety of habitats in a relatively small area. Diversity of habitat, and plenty of it, has created sanctuary for a fantastic range of species.

O'Reiley's is bang in the epicentre of a rich wilderness, an oasis within an oasis. Trekkers can choose from 200kms of trails, ranging from 45 minutes to all day. Photographers can come here and do almost no trekking at all, and still be richly rewarded. Birders will spend their time on the trails in search of the Albert's Lyrebird, the bowers of Satin and Regent Bowerbirds, and a variety of other species that scurry around the forest floor or high in the treetops.

There are stunning waterfalls at the end of these trails, sudden views across the precipitous escarpments, and quiet moments with a range of wallabies and pademelons. The rainforest is very reminiscent of the Dandenong Ranges where I grew up, just with fewer ferns and more palms. I hope the people of Brisbane realise how lucky they are to have this only a few hours away.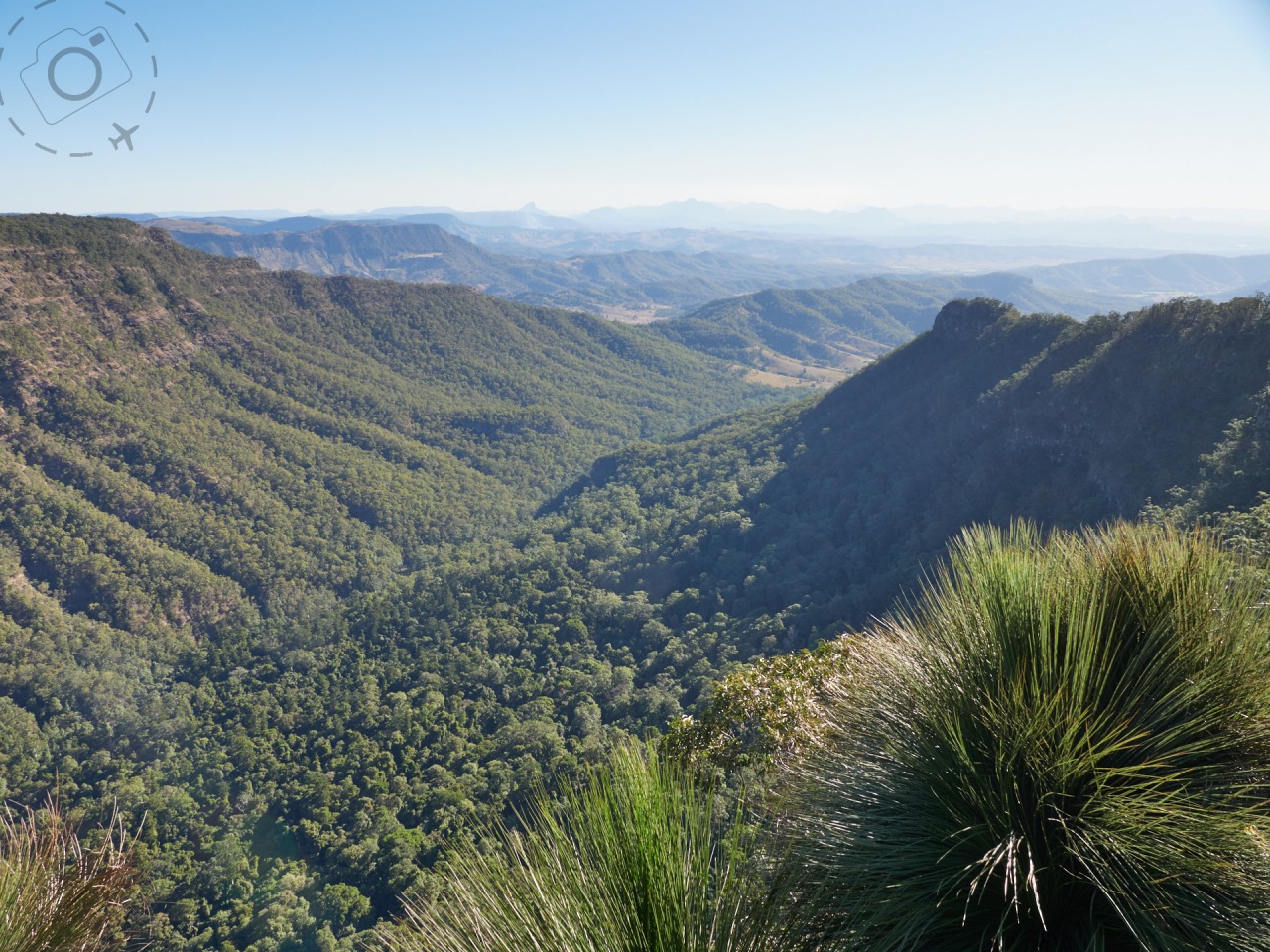 Lookout in Lamington NP (Lumix G9 with 12mm f/1.4)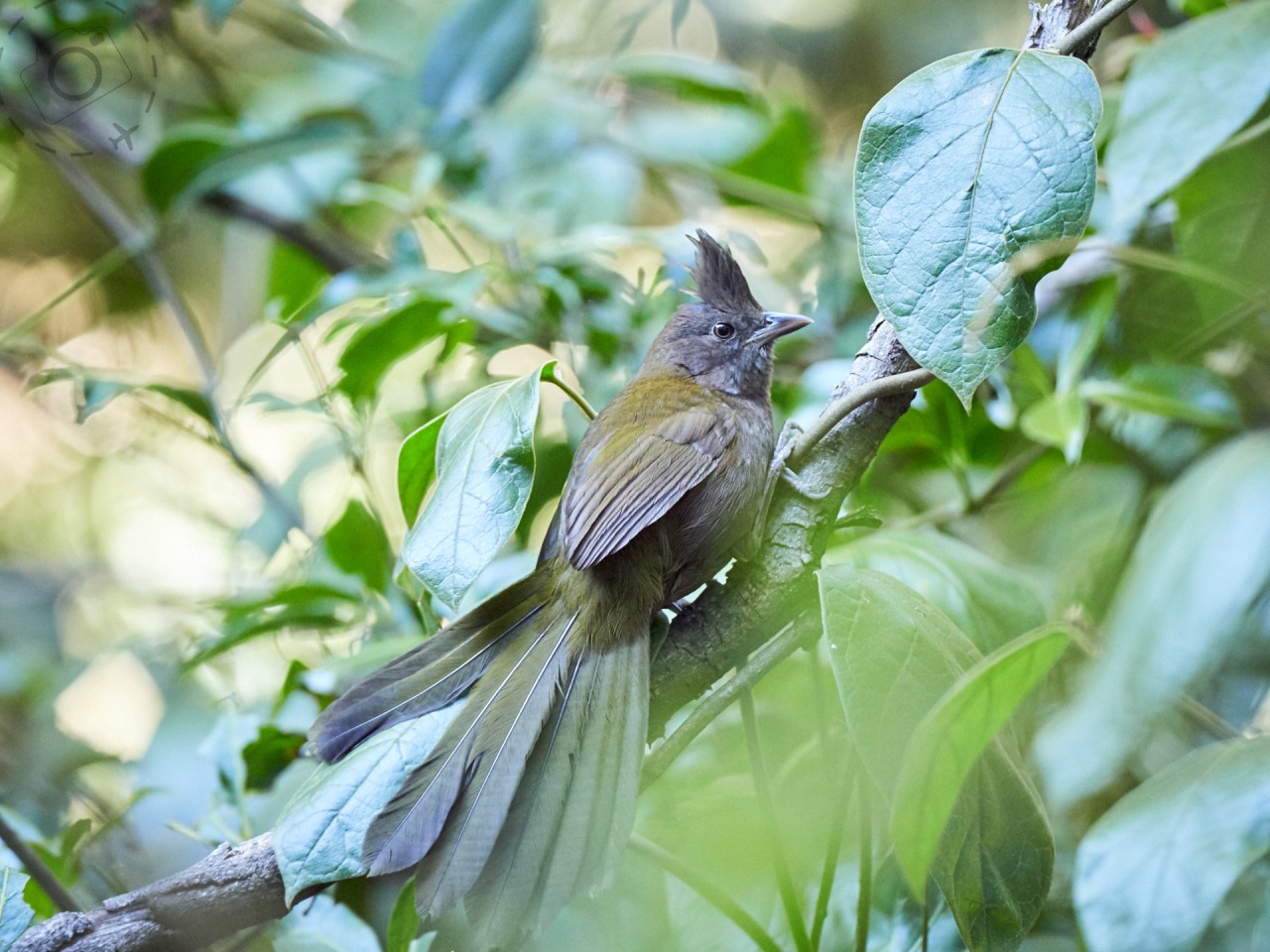 Eastern Whipbird deep inside the canopy (Lumix G9 with 100-400mm)


The Birds

With the exception of the habituated birds that come out to say hello to handfuls of sultanas, most of the birds in Lamington National Park are very much hiding in the darkest parts of the rainforest. They will test your skill for sure. Most birders are happy to go home without a magnificent photograph of every species they meet, but if you come here for photography then you will be challenged by the light beneath the canopy.

If you've done tours like my Grand Outback trip where we head onto billabongs at sunrise and sunset with lots of open light, you will find the rainforest equivalent at O'Reiley's to be very very different. Birds like the Eastern Yellow Robin are incredibly easy to photograph, due to their friendly nature and feeding habits where the bush meets open grasses. Other birds that almost exclusively inhabit heavy foliage beneath the thickest of forest canopy, such as the Logrunner or Whipbird, may seem impossible. Just keep your expectations in check and remember that luck definitely plays a part in getting great shots.

Regent Bowerbirds feature as the logo for O'Reilley's but really it should have been the Eastern Yellow Robin. These chaps are much easier to find, all day long, and offer immense charm and photographic opportunity. They're in great numbers around the camping grounds, pretty much on every forest walk, and make cameo appearances around the lodge and cafe. What I love about the Yellow Robin is that they give you a chance to photograph in a wide variety of light, so you get to experiment for yourself with different kinds of light as you search for the art in your bird photography.

Back at the retreat the Regent Bowerbirds are reliable attendees at breakfast between the months of August to November. The local guides have made a habit of rewarding their appearances with the odd sultana, and on a good day you can see close to a dozen males and females loitering around the reception area. When the guides head off there are often other birders with their own supply of sultanas, grains and crushed walnuts, seeking to lure the Regent Bowerbird closer to their camera.

Satin Bowerbirds also appear at the retreat in the mornings. They are drawn to the retreat with the promise of fresh fruit each morning, watched from inside the dining room by humans enjoying their breakfast. A wire cage over the feeding area keeps out bush turkeys. Currawongs and Crimson Rosellas also get into the freebies.

Regent Bowerbirds are easily spooked by the bigger birds, and prefer the selective attention from guides. The Regents will accept an open palm with treats, flitting down from a high perch to touch for a fraction of a second while nabbing their snack before flying away immediately. Guides conduct a morning walk every day at 6:45am and the bowerbirds are ready to greet them. If there are potential snacks on offer they will loiter for another hour or even longer, and others will come to join in. It's possible to have a dozen males and females gathered in expectation of treats.

I'm not properly qualified to debate the ethics of feeding wild birds in this manner. I will say that a chance to photograph and observe these beautiful birds would be highly unlikely for 99.9999% of humans if not for this instance, and visibility of wildlife goes a long way to conserving wildlife. Politicians typically struggle to protect wilderness in the absence of highly attractive species seen in public view.

I do wish they had picked somewhere away from the reception to habituate the birds however, somewhere with a little more space and lot fewer distractions. Outside the retreat coaches roll in to load up luggage and passengers, screaming children run around chasing away anything that moves and school groups block the footpath. Even when the feeding location is quiet there's limited space for tripods and big lenses, and predictably I have even witnessed a few 'impolite' photographers as one person's eagerness takes precedence over common courtesy.

The popularity of the trails with day trippers and visitors is always a potential issue for photographers. You'll encounter lovely birds all over the lodge area, but may not get long to shoot them if a noisy family turns up. I came across a lovely Eastern Spinebill three times in the same day and each time had to cut short the fun when they were driven away by people who had no idea there was a bird next to them.

The best solution is to spend a few dollars and hire one of the guides for a private shoot. They will find a quiet spot for you where the birds outnumber the tourists, and have all the necessary skills (and treats) to draw the birds in close. It's money well spent, both for you and for supporting expert knowledge in the area.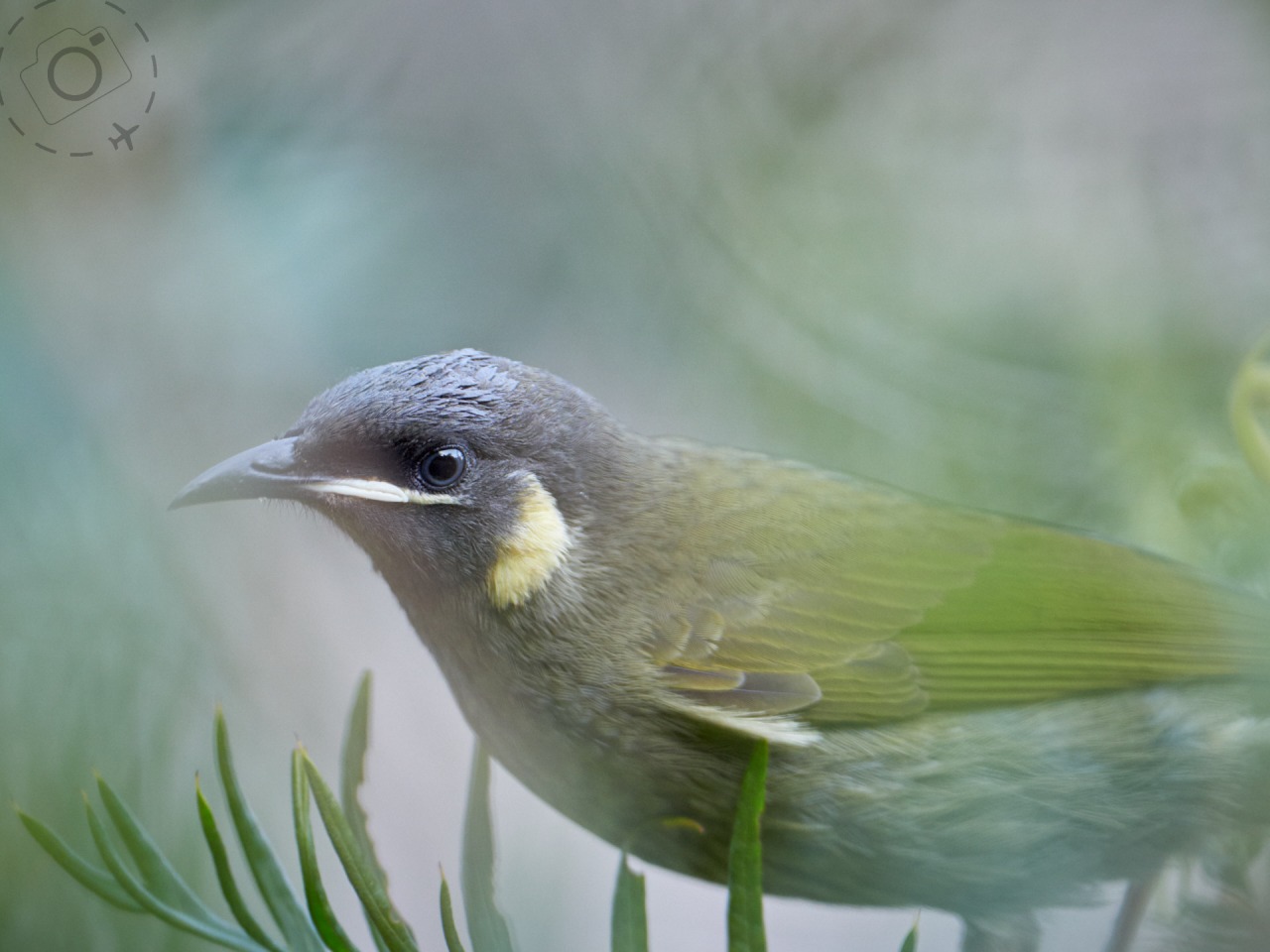 Lewin's Honeyeater (Lumix G9 with 100-400mm)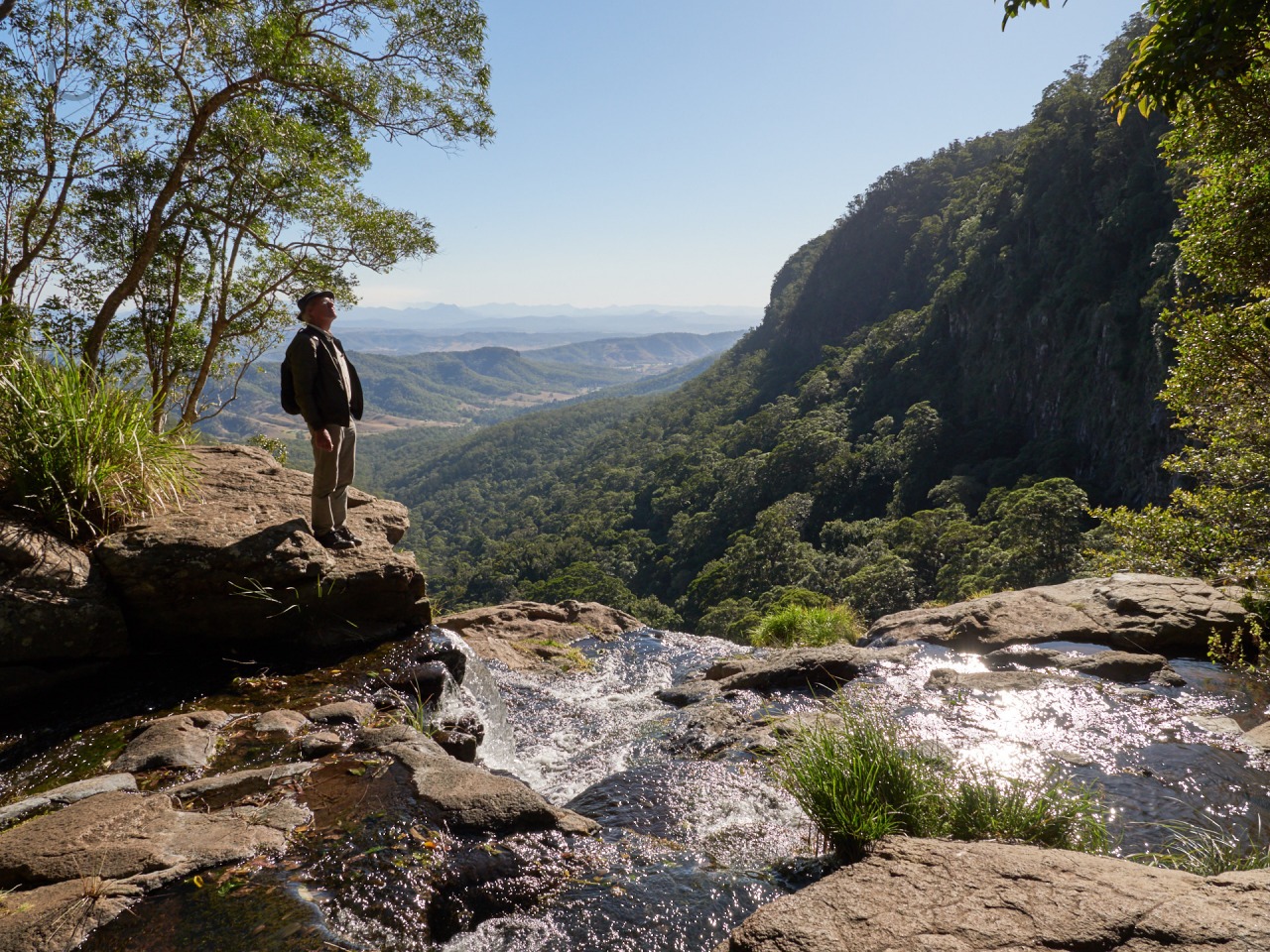 Views over the valley (Lumix G9 with 12mm f/1.4)


The Bird Whisperer

Glen Threlfo is the elder statesmen of the guides at O'Reilley's. I was lucky enough to spend a few hours with him and hear a fraction of his stories. He's a talker. Glen is also very accomplished with shooting video footage of the birds and has worked on several documentary projects. He fully understands light and how it impacts your photography. Glen also understands the commitment required to capture stunning images.

Having spent 40 years guiding at O'Reilly's Glen has a unique connection with the wildlife. As he chatters away on the trails the birds recognise his voice and will come in for a closer look. They're expecting a little treat for the appearance too, just like the Regent Bowerbirds. Glen gave us a wonderful session with some White-Browed Scrubwrens, Eastern Whipbirds and Satin Bowerbirds. We didn't have much luck finding the Riflebird on this occasion, in early August, although other guests did report spotting one the week we visited.

Much of bird photography is patience though, and if you simply pick a good spot and stand still you will find that many birds will come close enough to shoot. I had this experience with flocks of Red-Browed Finches and the Superb Fairy Wrens, foraging on the lawns in front of the retreat. A few times on the trails I also had great encounters with Whipbirds, a variety of scrubwrens and even a few Brown Gerygones gave us a show. Anytime we just stood watching the trees we would end up taking shots of something that we hadn't noticed until then.

On my last night staying at O'Reilley's I walked back to a section of trail where Glen had introduced us to his favourite Whipbirds. A few of those birds came in to say hello again, but unlike Glen we didn't have any snacks to offer them. To my surprise we had an extra visitor, a Regent Bowerbird. This location is quite open to one side, but flanked by forest to the other, which is where the bowerbird retreated in between bouts of bravery. We got a few shots in quality light before he went deeper into the trees and disappeared. Having a bowerbird to ourselves for just a few minutes was truly lovely, even if the underlying trigger for that occurrence traces back to a decade or so of sultanas.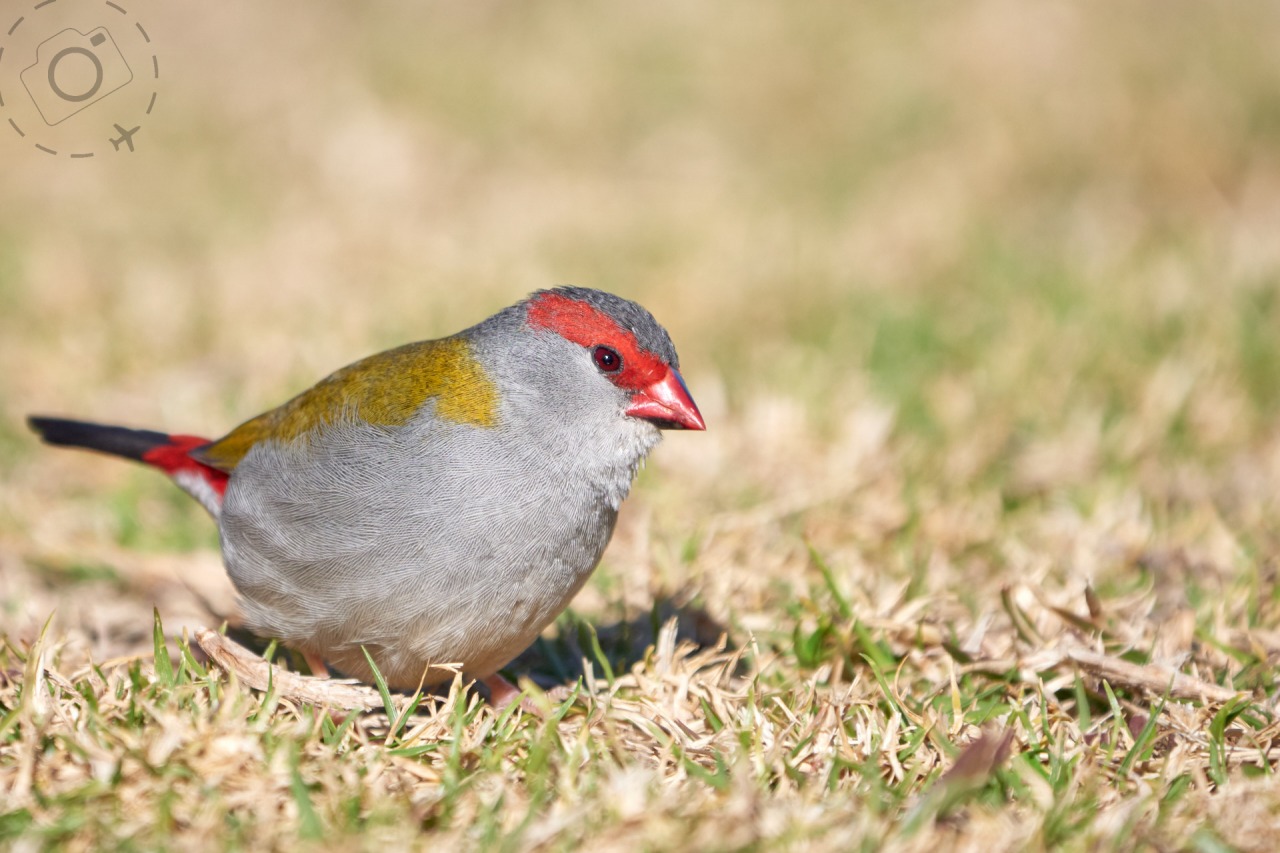 Red-browed Finch (Lumix G9 with 100-400mm)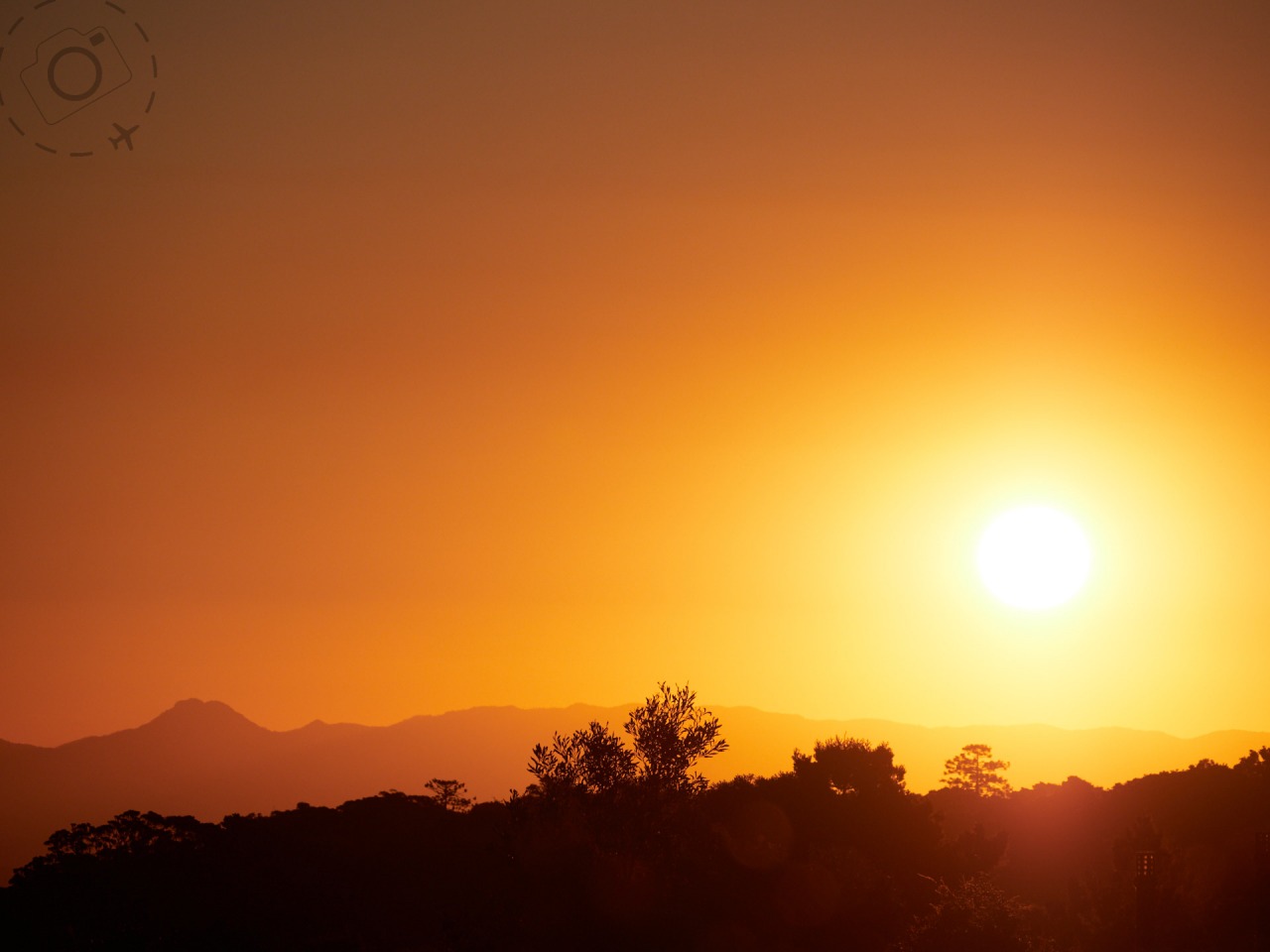 Last Light over the hills (Lumix G9 with 12mm f/1.4)


Crowd Pleasers

There's a downside to having a nice lodge in the middle of the rainforest, and that's humans. Most of the overnight guests are here for the wilderness and birds, whether staying in the campground or the villas. The day trippers are a more varied audience however. The flood of people between 10:30am and 3:30am can make it tricky to find a quiet moment with the birds if you're anywhere near the retreat. Even on the trails there are people walking through often enough to detract from the photography.

The morning bird walk is free to guests at O'Reilly's, which means 20 or more people following a single guide into the forest at 6:45am. This is a great service to guests who want to catch a glimpse of some beautiful birds. Photographers want more than a glimpse of course so in this instance you're better to hang back from the crowd.

O'Reilly's have also courted the broader market with activities such as Segway tours and zip-lining, as if somehow the rainforest and it's charms are not sufficiently attractive. I wonder what it must be like for a guide who has deep enthusiasm for wildlife and ecosystems forced to spend their afternoon with squawking humans who would rather be at a wildlife park taking selfies with a wallaby.

Intersections do exist between a passion for wildlife and the mass tourism market, and the "Birds of Prey" show is a good example of that. Mark Culleton owns a wonderful collection of raptors and shares them twice a day with small groups of guests. Mark is clearly joyous about his crew of feathered friends and that comes across in the show. It's a great experience, presented in a casual setting and without needless hype. Watching and hearing his owls, kestrel, kite and wedgetail up close is a treasure. It's also an opportunity to test the focus speed of your camera gear with a magnificent set of subjects and predictable flight paths.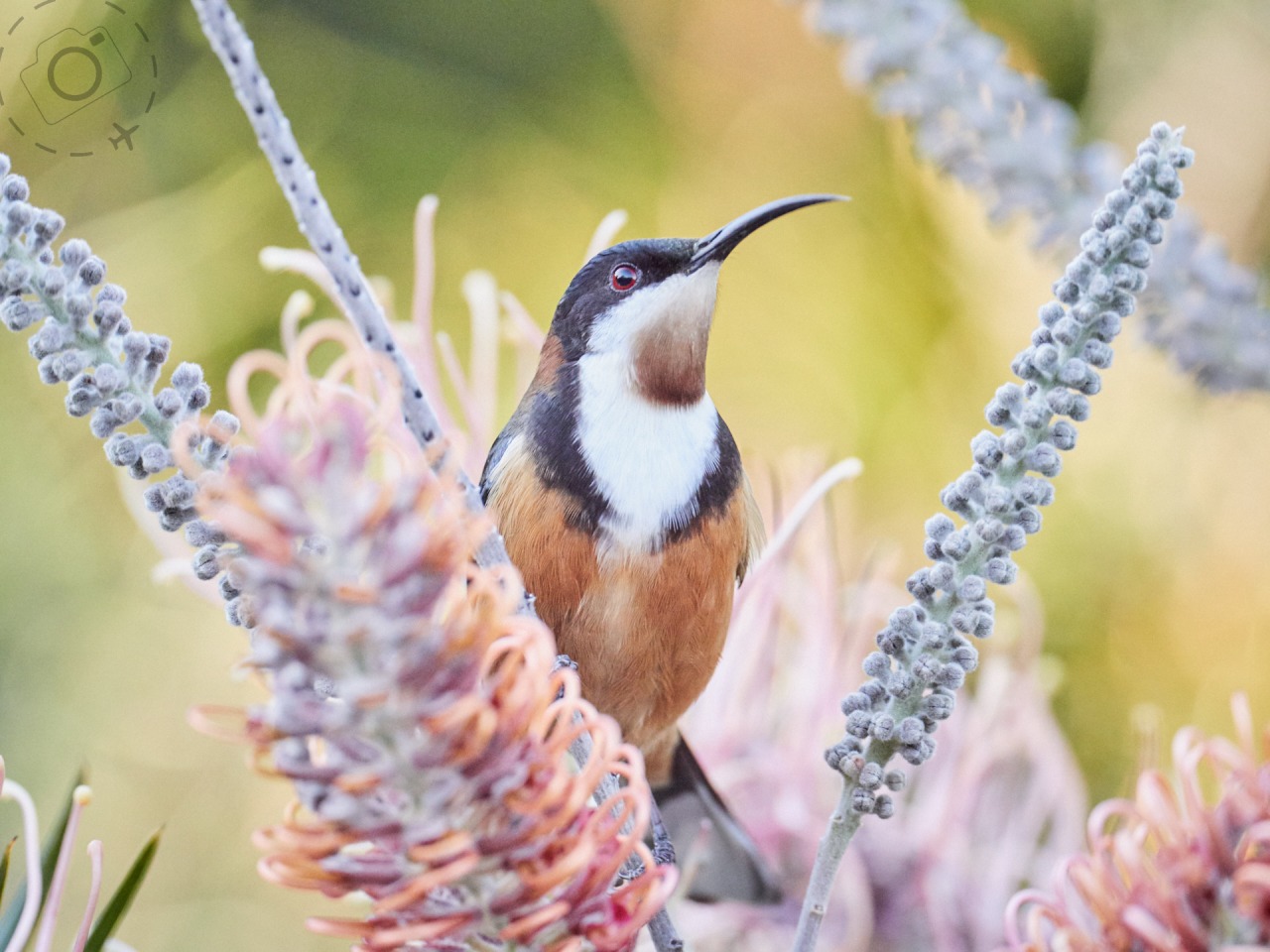 Eastern Spinebill (Lumix G9 with 100-400mm)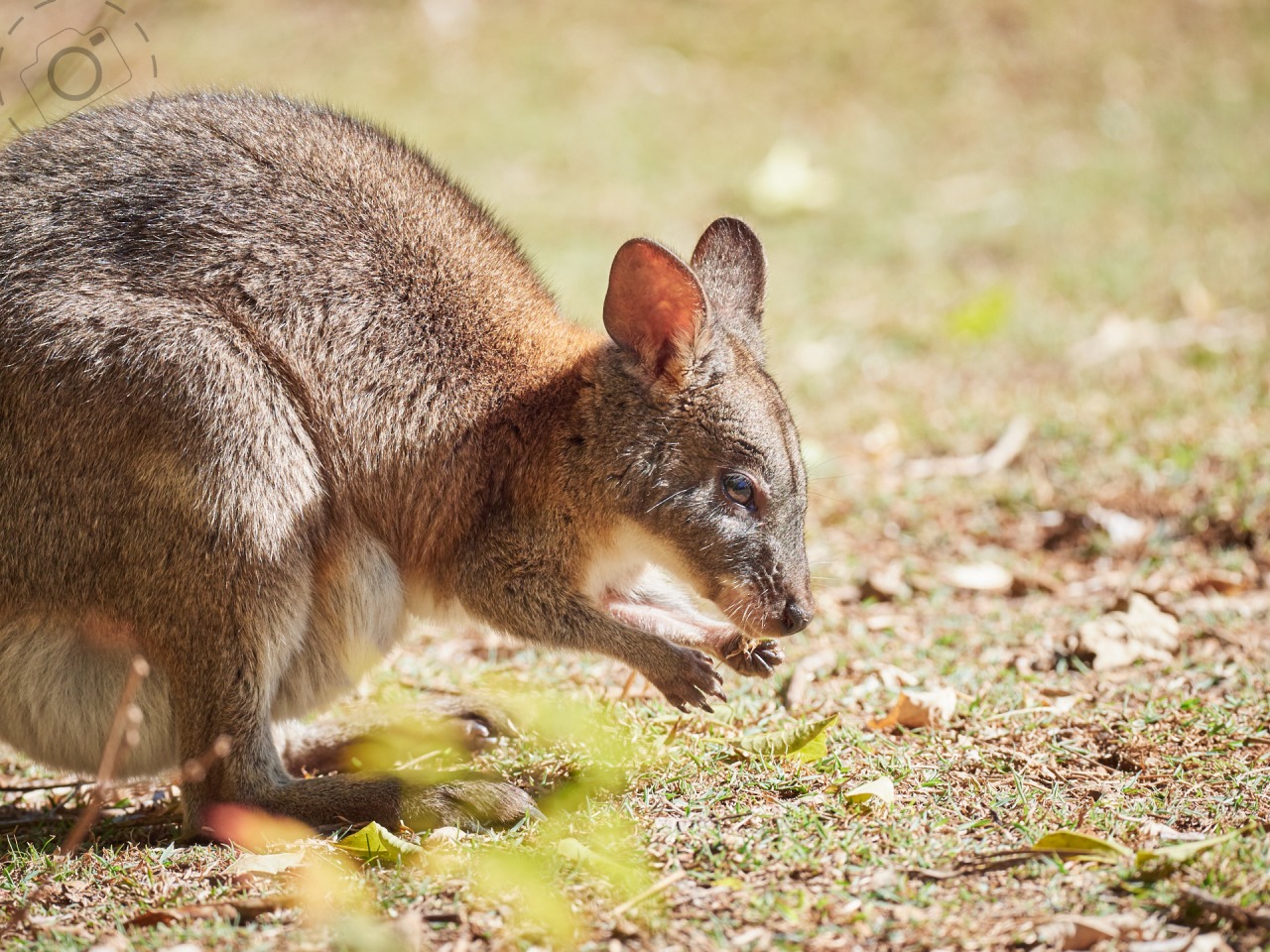 Pademelons in the campsites (Lumix G9 with 100-400mm)


The Habitats

The retreat ends up being the focus for photographers by virtue of the excellent access to a handful of photogenic species. There are lots of other birds in the rainforest too, and worth noting that there is a wider variety of habitats nearby besides the highland rainforest. Tim Dolby, bird expert and author of several excellent books, explained to me that what makes this region so fascinating is the convergence of ecosystems, with the southern most tropical rainforests meet the northern most sub-tropical woodlands.

Specific habitats range by elevation as well, with a different zones at the top of the hill compared to the escarpment edges and the valley floors. There are several patches of Antarctic Beech here as well, beautiful trees that create yet another habitat for different kinds of birds. All of these zones are readily accessible, assuming you enjoy walking. As you do walk through the trails it's worth remembering just how little of the forest around you is untouched. Much of what you are seeing is regrowth forest and is still in various stages of an ecological succession.

We went for a short trip lower down the valley to a patch of wilderness where the rainforest gives way abruptly to open woodlands. Tall eucalypts mottle the light on wild grasses and the black trunks of xanthorrhoea. We spent a little time with the Crested Shrike-tit, a lovely little bird that is doing well amongst the tall timber of the open woodlands. Like so many birds in this region, they prefer to hang out very high up in the trees. Sighting them is relatively easy. Photographing them is somewhat less rewarding compared to lower level subjects.

The great thing about photography is that it gets you out into the world and gives you a chance to have great experiences. It's not just about the photos you take home. We spent half an hour one day watching a lyrebird foraging for worms. The light was pretty rough so I enjoyed the experience much more than the photography. Same goes for the Crested Shrike-tit and it's chirpy songs.

I could say the same for the Brown Thornbills and Brown Gerygones, both of which are dynamic little creatures that never rest yet offer ebullient songs when they hit a patch of tasty food. Despite being such delicately small creatures I did find places near the retreat where these birds offered a moment of photographic joy in addition to the charms of their company.

In many ways these encounters are far more treasured than the more sought after Regent Bowerbird. In the absence of playback calls or sultana bribes, getting a shot of a wild bird is really something to treasure. Especially something as small and overlooked as a thornbill, a bird that most hikers don't even realise exists. If you can enjoy moments with the wildlife in this manner, then a short stay at O'Reilly's will prove extremely rewarding.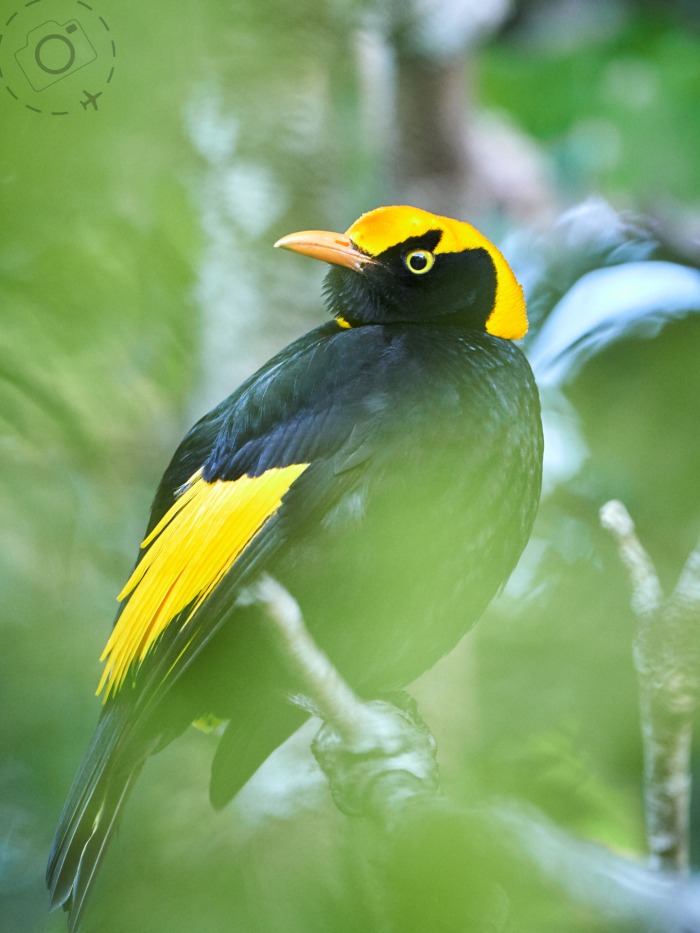 Regent Bowerbird (Lumix G9 with 100-400mm)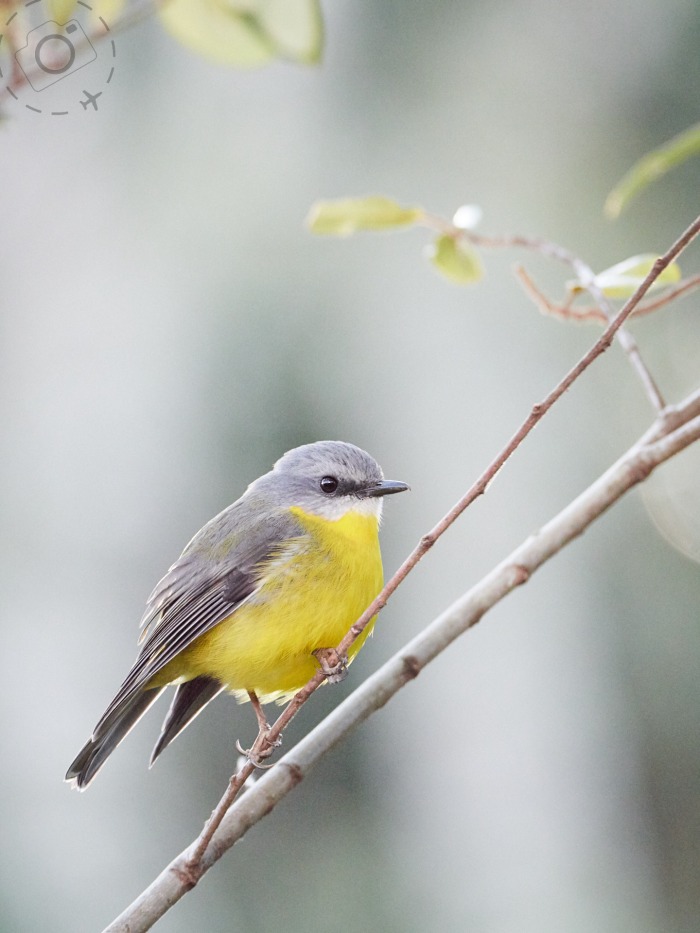 Eastern Yellow Robin (Lumix G9 with 100-400mm)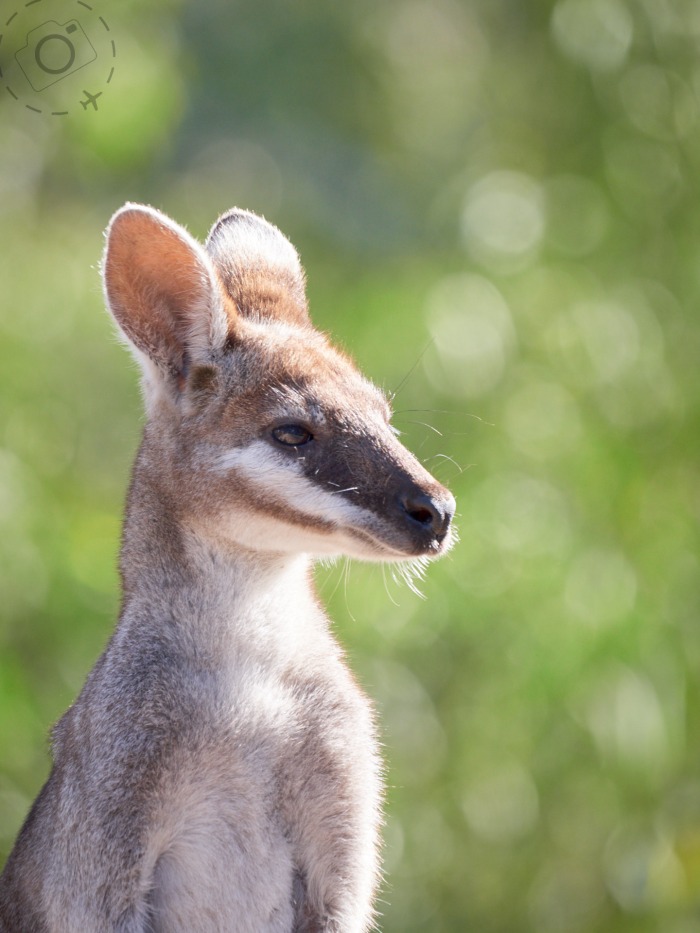 Bridled Nailtail Wallaby (Lumix G9 with 100-400mm)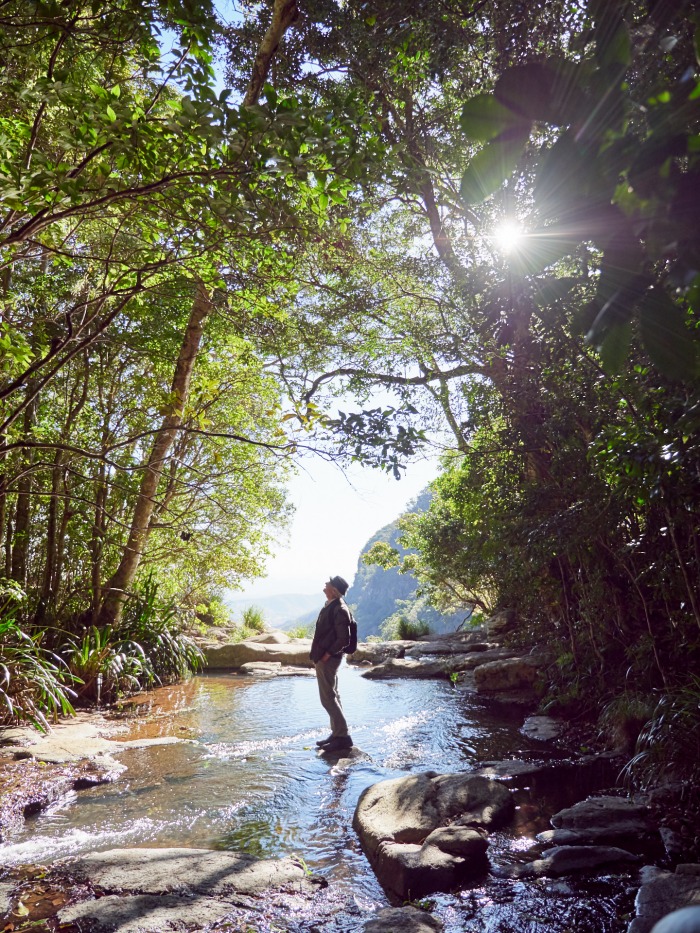 Waterfalls in Lamington NP (Lumix G9 with 12mm f/1.4)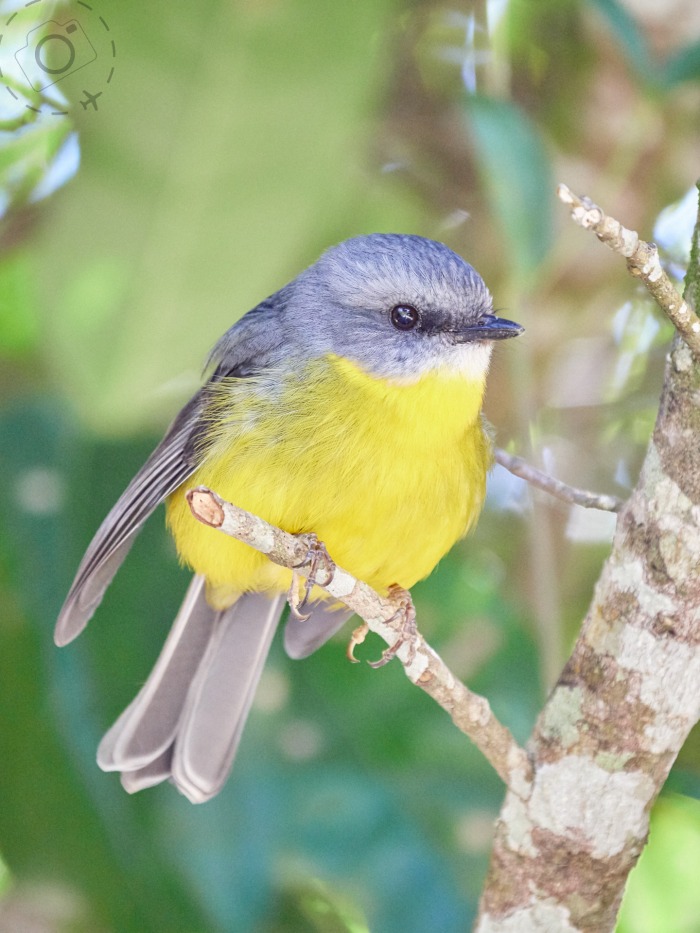 Eastern Yellow Robin in the shade (Lumix G9 with 100-400mm)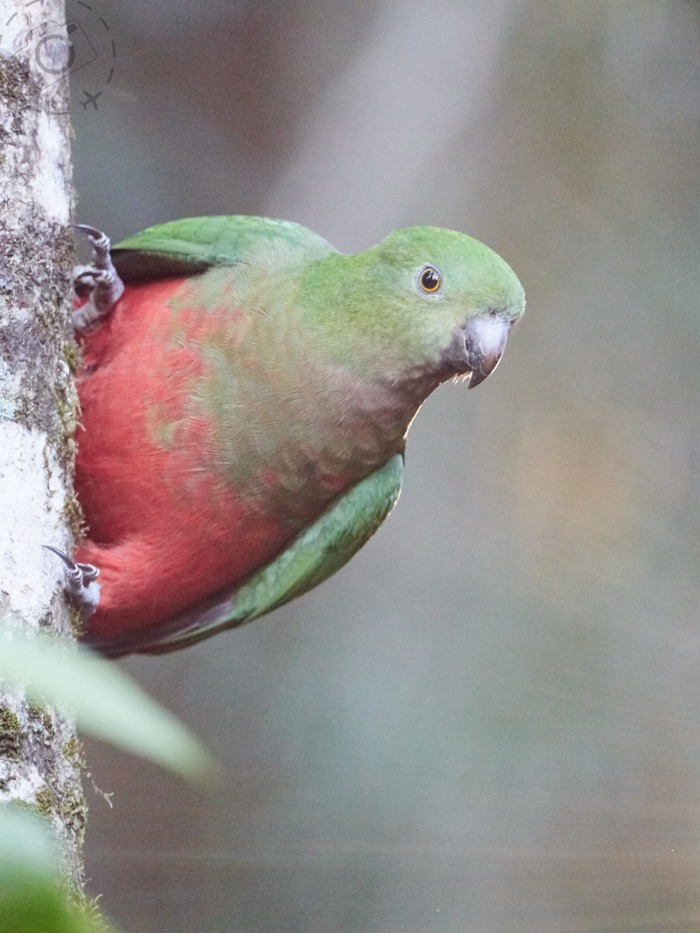 King Parrot in the early light (Lumix G9 with 100-400mm)

Please Share Your Thoughts