In recent months I've been challenged by the bad behaviour of a single traveller. Her story has made a lasting impression for all the wrong reasons, but I hope to take away from the experience some insight and inspiration. If I can be less like her then I can be a better person. Her name is Claire and I shall be ever grateful that she is NOT joining me on my next photography tour.

Nepal is one of my treasured lands, a place not only generous to the photographer but to the spirit. These are poor people living in a land locked country, a mix of diverse ethnic groups and religions that manage to live in relative harmony. They are rich in kindness however and every time I travel to Nepal I am reminded of how fortunate my life has been.

All the more fortunate is my life to have travelled in their country.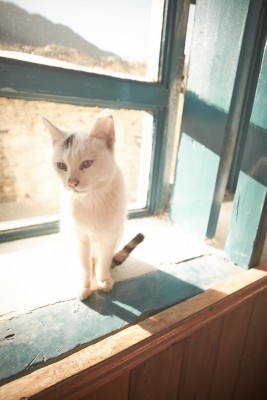 Let me now introduce you to Claire, an Australian traveller who likes to tell people she's not one to complain. Having booked on a photo tour with me she decided that sharing a room wasn't to her liking, and spent the next few months complaining. Her reasoning to me was that Nepal is a poor country and the tour is expensive, therefore she should not have to pay for a room upgrade.

Her attitude offended me on every level imaginable. It's insulting to the hard working people of Nepal, embarrassing to think that a fellow Australian can spout such views, and depressing to know that such selfish and ignorant attitudes can arise from humanity. Here is someone on the cusp of visiting a unique part of the world that can teach us all how to be kinder and more considerate people, and she begins her journey by trying to bully herself into a free hotel room.

Nepal is a poor country, but I don't think that entitles us wealthy foreigners to simply demand whatever we desire at no cost. Indeed one way to contribute something to such a wonderful country is to spend your dollars generously. Yes my tours are expensive, because unlike Claire I am committed to ensuring everyone down the line gets paid. I expect to get paid for my work, and so should my hotels, guides, drivers and agents.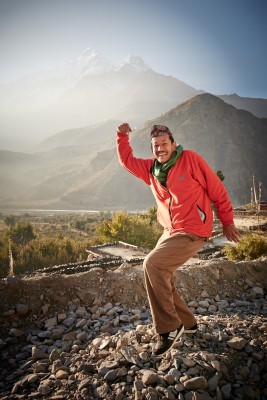 I don't haggle over prices. I work with a wonderful team of people based in Kathmandu who have truly earned my trust year after year. I pay a fair price for their professionalism and I don't bargain them down. I only bring one group of photographers to Nepal each year, so it's a boutique experience instead of a volume business.

Claire's attitude hit me below the money belt. It's one thing to travel with preconceived ideas but it's another to start imposing them before you even get on the plane. I don't know who Claire thinks should cover her free hotel room; perhaps the rice farmers in Pokhara can skip a few meals this winter, maybe the families who run the hotels can go without coal for a week or two, or maybe I should work without income so she can avoid spending her money?

Nepal is a place of great kindness and human spirit, and dealing with the selfish greed from one ignorant traveller was totally at odds with the very essence of my journey. I want people to visit Nepal and find a sense of inner peace, and maybe be inspired to share more of their own kindness at home or abroad.

The saga of Claire went on for months in fact. She harassed the tour company on a weekly basis about her demand for a free room upgrade, and then finally decided to cancel her booking. She then began a process of harassment to try and get her deposit back, ignoring the terms of her booking and the repeated conversations warning her that cancellation would result in losing her deposit.

Her campaign was aggressive, rude and deceptive. So much energy and effort had been wasted trying to secure a free hotel room, effort that could have gone into doing something worthwhile. Life is short enough without wasting half of it creating misery for strangers on the end of an email. What is so tragic about this waste of human energy is to think what good might have come from applying such effort to sharing a little kindness on a journey to the Himalayas.

I am grateful to Claire and her insane campaign because it reminded me how easy it can be to lose sight of what really matters in life. Nepal is a place of immense hardship that generates amazing kindness. Australia is a place of immense wealth that generates amazing ignorance. I'm lucky that I have spent so much of my life travelling in countries like Nepal and having my view of humanity challenged and enhanced.

Nepal is a gift.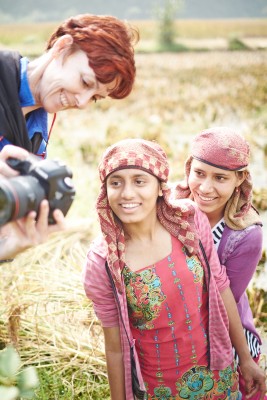 If your idea of a vacation is simply to suck a country dry for your own benefit and pleasure then please stay away from Nepal. Please stay at home and watch Andrew Bolt on the television. Travel is not your thing.

Photography also is a process of sharing the experience of life. Ideally. One reason the photographic experience in Nepal is so wonderful is the underlying depth of experience that it offers. From such experience comes an opportunity to express. That is what photography and art is all about.

When I started this website my intention was to offer something to the world. The same goes for my journeys in Nepal, they are an opportunity to bring some joy to the lives of people we meet. And to ensure that my wonderful team of people who make the tour possible get paid well for their dedication. The van driver, the porters, the guides, the hotels, the guesthouses, the kitchen staff, the jeep drivers, the chai walla, and so on.

If you find yourself with an opportunity to bring a small joy to someone deserving, then please don't let that moment pass. Grab it with both hands and savour it. There is nothing more worthwhile in life than helping others to have a better life too.

If you ever get a chance to journey to Nepal, with or without the camera, please enter with your eyes wide open. Look for the kindness in small actions. If you can enter with your heart wide open as well then you will be richly rewarded.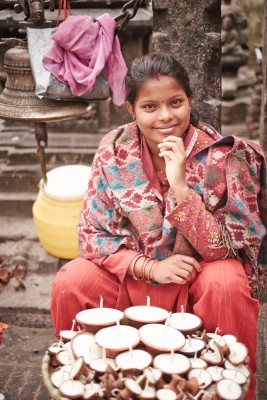 Please Share Your Thoughts