A partially demolished block in downtown Bangkok has become a haven for graffiti artists in the city. Fat caps and empty tins are tossed into the rubble that covers the ground. One flat section of concrete slab is used for a local version of volleyball, but more kids come here to photograph the graffiti than play sport. In fact students roll through in waves to pose for fashion shots and take impressions of the art.

The first time I saw the site I fell in love with a family of penguins that were sliding along a down pipe. Art meets architecture. My pick of the penguins are modest and funky but in sections the graffiti art is immense and elaborate. A one-eyed creature rises several floors above the ground on one wall, a semi-sliced fish dangles three stories higher next to it, and khaki clad soldier peer over security windows along the length of one building.

This is not tagging, it goes way beyond that. If you don't think graffiti can be art then you have to visit this site. I love a bit of contemporary art and I can't think of a better place to engage with it than the streets of Bangkok. There's a massive wall layered in black and gold paint that echoes of Siamese kingdoms in the 15th century.

Students and photographers are drawn not only to this one corner block, but some of the nearby lane ways as well. The graffiti has pushed off the block and into the neighbourhood. Scale dominates the massive canvas of exposed building walls on the demolition site, but in the narrow streets some more subtle expressions have appeared. Soft tones and endearing characters.

This site is in the Ratchatewi district, not far from the W1 khlong boat and within a short walk of the shopping precinct of Siam Paragon. It's one of several street art sites being celebrated as part of Buk Ruk this February and March. I hope the art will last much longer, and the trend will go beyond this festival.

If you are in Bangkok this February then check out the locations, and maybe visit the Bangkok Art and Culture Center while you're at it.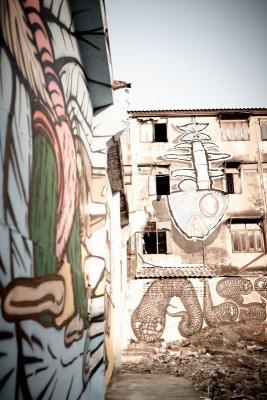 See more photos from the streets of Ratchatewi here:
ewenbell.com/editorial/Ratchatewi+Street+Art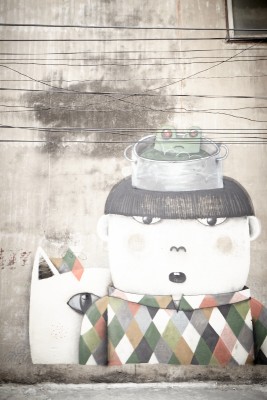 Follow the festival at Buk Ruk 2013:
bukruk.com/festival/map

Please Share Your Thoughts