Temples, tuk tuks and markets dominate the photographic riches of this city. Tourism goes hand in hand with the traditional charms however, so finding a genuine piece of Bangkok culture does require a dash of effort and a good deal of patience. The golden rule to take it slowly is critical. Running around trying to tick items off a list will not get you good shots anywhere, least of all in Bangkok. You have to be patient with the city, get to know a little piece of it and be fully aware of what essential character you are trying to capture with the camera.

More so than most places I find myself wanting to return to locations around Bangkok, because I look at my images the next day and realise that I got it wrong.

Lots of people find it hard to get photos of Bangkok that do it justice, mainly because people find it hard to get a handle on what the city is all about. The sheer scale and complexity of Bangkok is daunting. Plus a great deal of the cultural experience is not immediately suitable for the touristic traveller – massages parlours, studious monks and the turgid waters of the Chao Phraya River do not always translate well into happy snapshots.

Bangkok is a city that demands we bring out the photojournalist within in order to reveal its true nature. For me, the true nature of Bangkok is profoundly beautiful, a culture generously layered with compassion and kindness. In the bustle and rattle of the city it's easy to overlook the essential beauty of the residents and their unfailing gentle nature. I see this character when sitting at a street stall waiting for my pad thai to be cooked, watching the comfortable ebb and flow of locals as they order and eat and walk home.

I recently wandered down a laneway after spotting a small temple, but it was a dead end street and had to turn back. A few men where playing cards in the street, they looked up at me with a smile and waved hello. I waved back and smiled for the rest of the day. A few steps further along I watched a lady with a photo of the king above her doorway, and she lit a stick of incense in devotion.

These little moments of life in Bangkok are my treasured impressions. But all too often they are memories instead of photographs. I can't even say I have done a good job of photographing Bangkok, as I'm either in town on a media schedule or I have a few days of rest between journeys and spend all my time indulging in the culinary and character of the city instead of photographing it.

It would seem I'm better at telling others how to photograph Bangkok than shooting my own images. With that in mind, here are some suggestions on locations within the city that make it worth a three or four day stopover with camera in hand.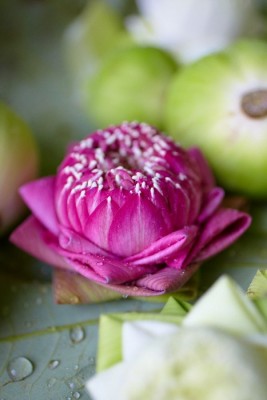 THONBURI

The best way I know to photograph Bangkok is to leave it. Technically the city to the south of the Chao Phraya River is not Bangkok, but the city of Thonburi. It was the site of an earlier kingdom, and although it's hard for visitors to tell one city from another they are in fact distinct. Technicalities aside, Thonburi offers a less effected glimpse of life in Thailand with its narrow footpaths by the khlong, urban life that spills into the laneways and ease of access from the more familiar frantic pace of Khao San Rd, Riverside or Siam districts.

I've been fortunate to discover the backstreets of Thonburi by joining Grasshopper Adventures on some of their cycle rides. A half day or full day tour gets you into the urban scene and maps out a few locations where you can capture genuine moments of local life. One of the highlights here are the bowl makers of Ban Bu who tap and hammer out metal bowls in the courtyards of their homes. Most khlong tours will also make a side-trip down Khlong Bangkok Noi and show you a glimpse of life by the water in Thonburi. Just make sure you come back on foot to allow yourself time to compose instead of snap.


PANNING FOR TUK TUKS

This is one of my favourite things to do in Bangkok. Pick out a spot with an suitable backdrop and use a slow shutter to pan and shoot as the vehicles zoom by. Even brightness and a bit of colour that will streak when blurred is what you're looking for in a location. Many places around town have very high concentrations of tuk tuks on the road, but you want a patch where they get up to speed in a straight line so you can get the best blur effect.

Tuk tuks congregate where ever the tourists hang out. Wat Pho, Khao San Rd and the Golden Mount are full of them. Mostly sitting around like overfed vultures waiting for some sucker tourists who don't know that a taxi will get them anywhere for a fifth of the price. In their defence the tuk tuks are a lot of fun to ride in, and you haven't fully experienced South-East Asia until you've had a ride in one.

Away from the tourist centres the tuk tuks are far more honorable. For locals the tuk tuks are ideal for short trips and offer efficient and inexpensive transport. As a foreigner however, I'd normally prefer to photograph them than ride them.


BUDDHA MARKET

Not far from the Grand Palace is the Buddha Market, although perhaps better translated from the local name into "Amulet Market". Once this was little more than a small collection of shops selling antique amulets featuring high ranking monks and images of the Buddha. Now the streets leading into and out of the market are lined with traders and their collections of amulets, and a constant stream of Bangkok residents and monks in the mood to buy. Most are inexpensive and appeal to the spiritually minded who want to keep their enlightened influences close to heart. Some are genuine antiques however, and you will often see men with monocles examining pieces with great care.

The items themselves are fascinating studies of still life, while the shoppers provide some great moments to shoot street scenes. Ask before shooting merchandise on a stall to avoid offending people. Half don't mind, but some do and with so many other images of the Buddha on show it's no trouble to avoid trouble.

Getting to the Buddha Market is easy. If you're staying in the Khao San Rd area just catch the Number 53 bus and get off when you see monks shopping - south of the university and north of the Grand Palace. Alternately if you're staying by the riverside use the Express Boats and exit at Tha Chang Pier, one block south of the market. This particular market runs all day every day, not just in the mornings and not just on weekends.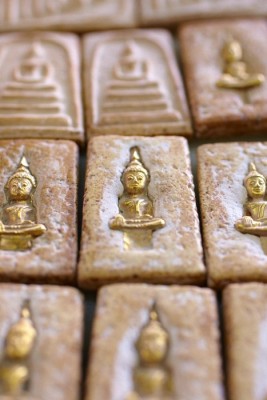 FLOWER MARKET / PAK KLONG TALAD

Open daily in the early mornings and active again in the cool of the evening, this is an explosion of petals to inspire the camera. Expect to be thrown into camera chaos here, with so much happening around you that your photographic ideas can quickly become defocused. Manic street scenes, over-loaded tuk tuks, still life subjects and waves of colour from all directions. Go slow, let the light guide your composition and leave yourself time to make a return visit to tackle the location with a more narrow game plan.

Getting there is pretty easy, just get off the Express Boat at Saphan Phut Pier and work your way upstream from the flow of residents coming home with bags of flowers.


CHATUCHAK MARKET

Saturday and Sunday are the big days for Bangkok's weekend market, Chatuchak. It can be seen spelled any number of ways, as is typically the problem in Thailand, so Jatujak is another version you will commonly see. This is an enormous market the size of several football fields, so large that you'll readily get lost once inside the maze of stalls and possibly struggle to find your way out again. Many times I have made a mental note of a favourite shop, only to wander the market for hours searching in vain to find it once more. If you see something you like, buy it or photograph it – you may never find it again.

It's easy getting lost inside the market, but nearly impossible to get lost en-route to it. Most Bangkok taxi drivers have their backstreet routes to get you there in quick time, there are several bus routes that run past it plus the Skytrain and new MTR networks service the market by rail.

Photographers who enjoy crowds and scenes of shopping excess will be rewarded here, but don't come looking for a poignant cultural insight into the people of Bangkok. Tourists have discovered the markets and usually outnumber the residents. What you do see is where modern culture blends with traditional Thailand, resulting in classic Bangkok interpretations on t-shirts, fashion and homewares. You can also find plenty of unusual culinary treats and creative crafts. Chatuchak itself is a wonderful snapshot of where Bangkok is, was and will be.


SINKING THE FLOATING MARKETS

If you believe the glossy tourist brochures there must be authentic floating markets all over Bangkok. A few centuries ago that was true, back when there were no roads at all and the canals were how people got around town. Today the "floating markets" in Bangkok itself are touristy remnants and sadly lacking in charm. Even the more authentic example at Damneom Saduak, 100km to the south, is tragically flooded with tourists. I have heard good reports on another market at Tha Kha, also 100km out of town, but have not been there myself. Yet. Don't get your hopes up when heading to a floating market, and hopefully you wont be disappointed.

A more genuine market experience can be found in the South-East of the city at Bang Nam Pheung, translated as "The Honey-Temple Market". This little gem is found next to the Honey Temple, located well away from the downtown traffic on a green and swampy bend of the river. There are still a few traders serving food and produce from their punts, but the banks of the river are where the action is. Vendors trade all manner of fabulous treats, some ready to eat and others ready to take home and cook.


WAT ARUN

Sometimes I think there are more temples than tuk tuks in Bangkok, so you have to be weary of getting templed-out when you visit. Start with a few big ones, leave yourself open to chance encounters with the occasional small one, and just don't miss Wat Arun. The name itself means "Temple of the Dawn", and that's the best time to get across and visit. Catch an Express Boat to Tha Tian Pier and then slide across to the next pontoon where a cross-river ferry takes passengers to Wat Arun for the grand price of 1.5 Bhat (approximately 5 cents).

Once across the river the temple complex is made up of a series of dramatically steep chedi, each ornately decorated with pieces of broken china. A few centuries ago it was discovered that china pottery retains its colour despite exposure to the elements, so was a candidate for artistic expression with longevity. Up close the temple offers Gaudi like elements with intricate details. Gaurudas, elephants, monkeys and images of the Buddha are hidden within the temple artifice.

On a clear day the view from the chedi is brilliant, offering a unique height and perspective on the city with the Chao Phraya river and half the city itself floating past. Early morning and late afternoons you can see lots of monks crossing the river to and from Wat Arun.


FESTIVALS

Heading for a big city in the midst of a festival is often unwise, and you'll want to keep an eye out for Buddhist holidays in Bangkok. The Buddhist New Year (Songkran) happens around April 13-15 every year and the city turns to chaos in the form of water bombs and flour puffs. The combination is tricky for photographers, the thrill of some festive action can lead to some heavily damaged equipment. If you want a festival to photograph then don't miss it, if you want to see Bangkok then keep clear of the mayhem.

A far better festival for photographers is Loy Kratong, the lantern festival. All over Thailand a gentle mood marked by candles and flowers takes over the streets, skies and canals. Traffic can be a problem on the main evening for the festival, so make sure you have a well located hotel and know how to walk home again. Wat Arun is a major site for the placing of candles into the river during Loy Kratong.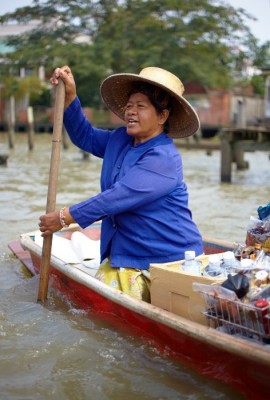 ewenbell.com/itinerary-kingdoms.php
If you like these ideas for photography in Bangkok you might like our Ancient Kingdoms Photo Tour as well.

Please Share Your Thoughts