A few weeks ago I reviewed a Fujifilm X-M1 for Digital Photography magazine, and I thought it was pretty darn good. I'd been waiting years for my ideal mirrorless camera to pop onto the market, and the X-M1 is pretty close to it. Of course my absolute ideal version would have a full frame sensor instead of a 1.5x crop, but us full-frame snobs are hard to please you know.

After a few days reviewing the X-M1 I decided this would be the mirrorless camera worth spending my money on.

Since then I've had the pleasure to tour around Bhutan with the X-M1 in my kit and have come to appreciate just how good the camera really is up against it's market rivals. I shared this trip with travellers toting a Sony NEX-5, Olympus OMD EM-5, Canon 5D MkIII and Leica M Type 240. The Leica and Canon both have better image quality and the Canon was undeniably the hot ticket for autofocus prowess.

Neither of those full-frame systems come within a bulls roar for weight and price of course, and indeed for matching lenses neither of the smaller NEX and OMD can offer the same image quality for the money.

The richness and detail of X-trans sensor images is amazing. Velvet tones and rich detail from the shadows are my reward for packing the little kit. I have an 18mm f/2 lens plus the 35mm f/1.4, so shallow depth of field shooting is still possible even when capturing images at the equivalent of 27mm wide. It's not the same bokeh you get off a genuinely fast full-frame lens, but it is very good and worth the effort.

Every now and then I hit a lighting situation that would fool the white-balance detection, and the autofocus is simply not a patch on the Canon 5D MkIII with a 24mm f/1.4 locked into place. But if you want a very small camera system to shoot DSLR quality images, then the Fujifilm X-M1 is top of the class for me.





Why not Micro Four Thirds?

Both the Olympus and Panasonic offer some excellent MFT cameras, but the limitations of the smaller sensor are not insignificant on your budget or scalability of image. The format employs some clever technology to make the lenses effective, but the best lenses are very expensive.

Even if you purchase the best gear there's still the matter of quality once you look closely at the images. Shallow focus work is difficult with such a small sensor, wide angle shooting carries an added burden of distortion, and the resolution achievable on the scaled down system is simply not as impressive as a DSLR. And neither is it intended to be.

When printing at a size of A3 or greater, which is where I want to be, the difference in detail up against a bigger sensor is hard to miss.

I did the image comparison test myself, printing an identical shot taken with a Lumix GH3 and a Canon 5D MkII side by side. Both had effectively 24mm perspective, and both looked really lovely right up to the big print size. It's a credit to the engineers that such a small format can deliver such great images. I just happen to know where the limit is now, and I can't ignore it.

Models like the Lumix GX7 are smaller and filled with more geeky features, like a Wi-Fi Direct mode that does useful stuff, plus the autofocus system in the Lumix GX7 and other MFT bodies is legend. If there's a better autofocus system on a mirrorless camera I'd love to see it. The accuracy and speed on offer from touch screen to shutter is amazing, at least when you have the really good lenses attached to the camera.

I like the APS-C sized sensor on the X-M1 better, but I am in no doubt about the order of magnitude difference in the autofocus it offers. The X-mount lenses are better than the Sony E-mount for sure, but the MFT lenses and cameras steal the show in this regard.


Why not a Sony NEX?

I was a huge fan of the NEX format when it first came out, an acceptably sized sensor and the promise of fast lenses just around the corner. Since then I've cooled a little, partly because the lens designers never quite found their way out of the toy factory and partly because Sony as a company drive me bonkers. You just never know what stupid idea they'll throw into the mix to ruin an otherwise brilliant bit of technology.

Watching a beginner photographer struggle with her NEX-5 on this tour of Bhutan gave me a valuable reminder of why the simplicity of Fujifilm is a feature rather than a burden. Sure the latest and greatest from Fujifilm is a little old-school in the geek features, and the user interface is less convincing than Max Headroom, but the camera is tactile and functional and demands a minimum of preparation to start driving.

In comparison the Sony NEX series is like a weird breed of dog that forces it's owners to learn new tricks instead. It's evident to me now that the NEX falls short of DSLR fans because each of the various models in the range operate like a marketing experiment, attempting to work out which equation of features and function will hit the jackpot with buyers. Trouble is, the buyers are actually people looking for a better compact camera not a smaller DSLR.

And that autofocus delivery on the NEX is slower than watching paint dry. It's designed to be flexible instead of fabulous. The Fujifilm X-M1 looks clunky compared to a Canon DSLR or Lumix GX7, but it's reliable and zippy up against the E-mount. Sony's NEX has the same size sensor as the Fujifilm X-series, but comes up a bit cheap and plastic in almost every other respect.


Why not a Leica M?

Have no doubt that the images off a Leica M, with some top shelf glass attached, will beat the Fujifilm X-M1 hands down. But you pay at least ten times the price for that opportunity, and you'll miss 95% of the moments trying to pull focus on the bloody thing. They're simply not for everyone, and I'll leave it to more dedicated folk than me to exercise patience and skill to get the best out of it.

The other realisation I had from watching these systems side by side is just how heavy and bulky the Leica M is. We tend to think of Leica as being compact and modest, but I'm not sure that argument holds weight any more. A conventional DSLR has heavier lenses, but the body itself is not necessarily any heavier or larger than the Leica. The X-M1 is clearly in a different category for convenience, and that's really the driving factor behind adopting a mirrorless system.

The latest Leica does offer the option of an electronic viewfinder, along with focus peaking to help improve focusing. It's a major shift from the rangefinder operation and I saw first hand some stunning results from the lady shooting with it. Again, let me clearly state that for image quality the X-M1 is not going to rival Leica, but if you enjoy manual focusing then the same focus peaking technology is also offered on the X-M1 through the rear screen.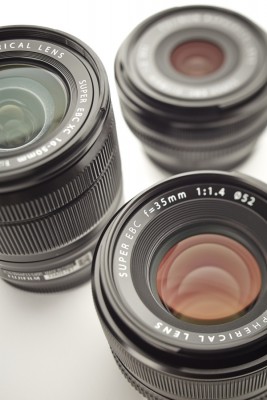 What Could Make It Better?

A larger sensor will always be top of my list for a funky new camera system. My appreciation for Nikon died a little death when they released the Nikon 1 system and that teeny weeny sensor inside. Canon at least kept pace with Sony and matched the APS-C sensor size, but deep down what I really want is a Leica style camera with an autofocus system I can trust. At half the weight. And a tenth of the cost. With a free coffee machine thrown in.

Yeah I know, I want it all.

Is it possible to design a mirrorless camera that offers the autofocus experience of a DSLR? Probably not. The combination of 135mm sensor and Single Lens Reflex truly is the "Goldilocks Zone" for camera design. The economics of building a better camera system outside of the current industry standards makes it highly unlikely we'll see anything radical emerging soon. But never say never.

I learned to better appreciate just how good my Canon 5D really is after two weeks pushing the little X-M1 about Bhutan, but I also learned to appreciate the potential for a modest sized system to deliver some fine bokeh and rich tones. My next experiment will be to start doing some large scale prints from my Bhutan series, and publish a few pretty books. If it's half as good as my DSLR images then I'll be happy.

Please Share Your Thoughts